RollFast
Mid to Late 50's
Moving and need room in storage so all my bikes / projects are up for grabs
Sorry not to show a full Driveside pic ... working on that
All are already in a box , I will attempt to dig up / post better pics to the extent I can locate, with limited access to my archives a.t.m. If you come in person we can unbox on site.
Bike has had
-Preliminary cleaning / penetrating oil treatment
-largely disassembled , and I wont be reassembling to ship .
This is a Transitional Tank Bike , " Flightweight"?
(there is a close example what it is supposed to look like in Dave's gallery)
This means it was essentially a Balloon Tire bike fitted with 1 3/4 tires and slightly narrower / less deep fenders
first $250
local Pickup preferred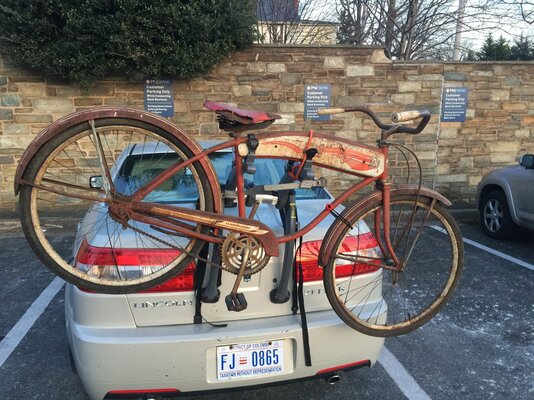 Great Potential , and it will require a range of your restoration and mechanic skills:
Paint looks orig to me, based on how found it seems pretty un adulterated
- wheels: recommend re spoke. Many seized spoke nipples and missing or broken spokes..... rims are worthy of an Oxlayic soak and repoke/ trueing
- Bottom Bracket: does not turn freely , has resistances and requires undue force to turn , so ,i havent forced it ..... my guess is you ill find broken chewed up bearings inside and debris ... i dont know , havent opened up to see whats going on.
Prefer someone who can meet in person to buy it ..... flexible while im still in the area .
if no local buyers, i will ship for slightly higher price.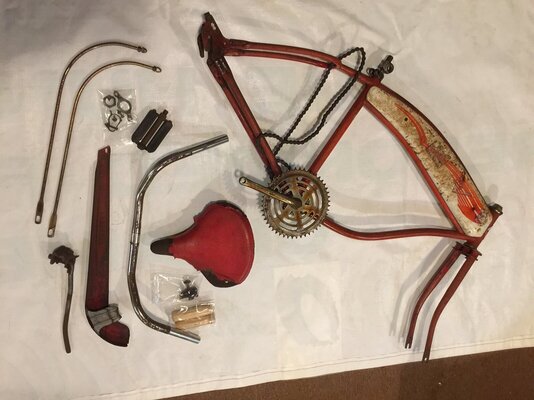 Last edited: