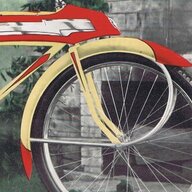 Oct 12, 2016
3,748
Warren, RI, United States
Mostly complete and original Snyder built '40 Wards Hawthorne men's bike.
Truss rod model. On 1st inspection I didn't notice any evidence of tank wear, so I am unsure if it came so equipped.
+
Og bars & stem, aftermarket fat clamp on crossbar
Truss rods & hangers are nice
Pretty chrome Morrow rear coaster J2
Og paint
Og painted dropcenter wheelset front hub is ND W
Frame is very nice & straight
Jiffy kickstand
Troxel Teacup saddle
-
Slight rearward fork bend
Pedals are rough
Crank looks like it could be a replacement, I will include a correct pre war Snyder crank.
Speedo is roached
Missing fenderlight
Aftermarket guard
Wheelset has pitting/corrosion, usable B- grade
SOLD
Thanks for looking,
Nate
401-548-9082
Last edited: