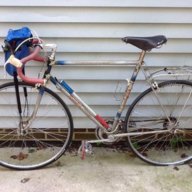 Wore out three sets of tires already!
Oct 28, 2011
932
229
Cleveland - Ohio
I got this one in a group of bikes I bought.
It says Cruiser on the chain guard, but cannot find nothing like it in the catalog.
The tires are Schwinn StingRay, but no banana seat or bars.
The s.n. on the badge is 2571