Finally riding a big boys bike
Ive been playing musical forks lately. I didn't realize how many Schwinn Lightweight forks I had until I started looking for a particular one. When I had 8 lying out I realized I didn't have the one I was looking for anymore and I started looking at the others. Then I remembered a pic I found long ago of a page in a Schwinn book that showed their TOTL forks for that period but there are many more.
Has anyone started a comprehensive Schwinn fork thread?
I think I know what bikes the ones I have came off of, all but one. I'd like to know what bike it came off of also but its an oldie.
From what Ive seen The Ashtabula forks came in two blade shapes and two lengths for 26" and 27" bikes starting in 56'? I dont know.
Maybe folks could dig out forks and take pics of forks on bikes till we have a comprehensive pictorial of Schwinn forks. (26"-27"-28")
Was there a special fork for larger wheel track racers?
When did they start using French and Japanese forks? others?
Heres the pic of a Schwinn Parts books showing four types of early forks. I have two early ones and neither are one of these.
As far as early forks go, I have locking fork I thought was from the early 50's but now Ive seen a 54' traveler that has a locking fork that is different from mine. On mine the caliper pivot bolt is a stud screwed into the fork. The hole doesn't go through because the lock is in the way. On this 54', the pivot bolt goes through and the fender is hanging on it but it still has a lock. I'd like to see that one close up. This 54' also has the early Weinmann alum. Calipers.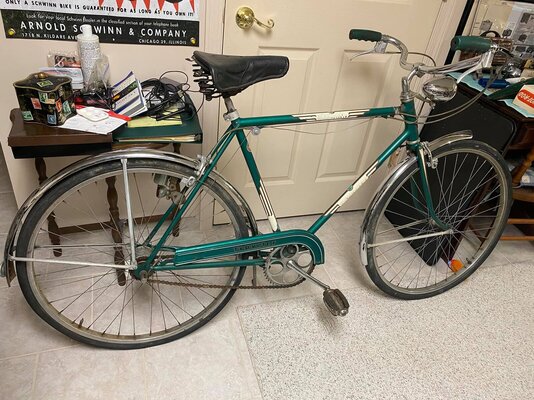 Heres mine with no hole in the rear. Also came with the metal Schwinn Caliper.
I will take more pics and post them.