Wore out three sets of tires already!
A rather nice set of Schwinn S2 Wheels with a Schwinn front hub and a N.D rear hub.
I did a quick cleaning and there are only several rust spots that will always be noticeable. The photo's will represent any of the bad spots.
The sides of the rims are nice with no or only a few small dings. The spokes are nice and only need some cleaning and tightening. I noticed a number of spokes will have to filed down as they protrude through the rim farther then they should.
My guess is these wheels are a 7 out of a 10 rating. They will be real nice with another cleaning and a coat of wax.
$180.00 shipped in the lower 48. If you want to visit beautiful Central Pennsylvania you can stop and pick them up to eliminate shipping costs.
Any questions call 570-220-9523
Dave Laidacker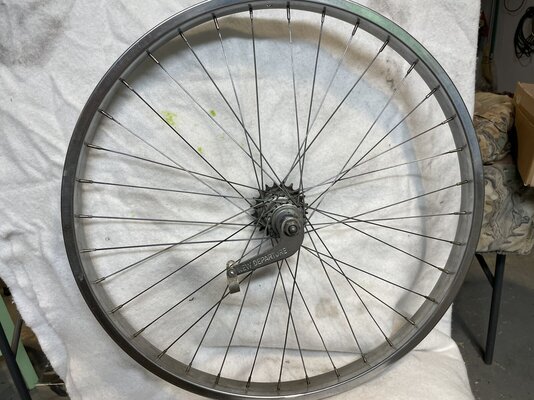 Last edited: