Red

/Black Paint, Fine Condition, Collectible Piece, Ride Ready

The StingRay's frame geometry features a lengthened, stretched-out design that emanates in a

laid-back

,

easyrider

position.
The

elongated saddle

is situated low, directly over the back wheel, the pedals are mounted further from the seat to resemble the riding position of a real motor chopper.
Both crossbar and downtube extend further up than on a normal bike, resembling the gas tank of an actual motorcycle chopper.





The Sting Ray showcases sturdy alloy rims that are differently-sized, again to mirror the real chopper look. The rear wheel is 16 inches in diameter, with an extra-fat tire that's 3 inches wide. The front wheel is taller and narrower at 18 inches in diameter and 2 inches wide. Both wheels have original Schwinn StingRay stock rims and hubs and high quality Kenda tires to boot.
The studded leather

banana-seat

is another part of the bike that is true to the chopper look along with the

chrome sissy-bar

mounted behind it. A mudguard with red fire blast decals is mounted above the rear wheel and is deliberately cut short in the classic chopper style.
The triple-tree forks and the high raised ape hanger handlebars are also akin to what is seen on a motorcycle chopper's front side.



This miniature red chopper's frame sure could use some deep scrubbing in order to shimmer and shine like new (hint: crumpled aluminum foil + Coca-Cola work like magic). The drivetrain side pedal broke off and needs replacement (I can give you an extra set of pedals for free if requested, which will only happen if you actually read the ad's description). The seat has a tear on the front-left part and could be mended with super glue, tape, a patch, or even sewn closed. You might also be inclined to install rubber grips or even wrapped grip tape for the bare-metal handlebars. It could use a fresh chain as well, although the one it has now still gets the job done.



Besides those minor caveats, this bike is a solid Sting Ray. Just its individual parts could fetch you a nice sum if you have the time and marketing chops to sell them separately (see images for reference).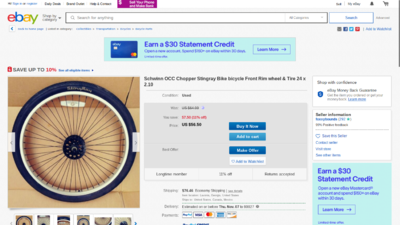 Or, with some deep cleaning and tuning up, this StingRay should make for a great investment on your part.
It could also be one of the nicest gifts you can ever give to any kid, like ever.