Wore out three sets of tires already!
Very short version: I'm picking up an early Roadmaster Luxury Liner at Memory Lane and I want to come up with a shopping list of exactly correct parts ahead of time. Questions and shopping list follow at end of this post.
Long version:
At Memory Lane, I will be picking up this 1947 / 1948 Roadmaster Luxury Liner, from
@sm2501
. At first, I thought that the black paint on the front fender was something that someone else had added later, but I have come to learn that it was actually a feature.
Given that so many of the Luxury Liners I have seen have reproduction parts, I want to do the research and keep this as close to original as possible. I know that some of the parts, like the rear fender and the wheels, were used on other models, but I do not know what the correct example might look like - part of the problem is that I simply haven't been able to find that many original examples - I will discuss what I have been able to learn shortly.
First, I have gathered the following advertising material, in chronological order, to the best of my ability.
The Ads
Saturday Evening Post
, December 6, 1947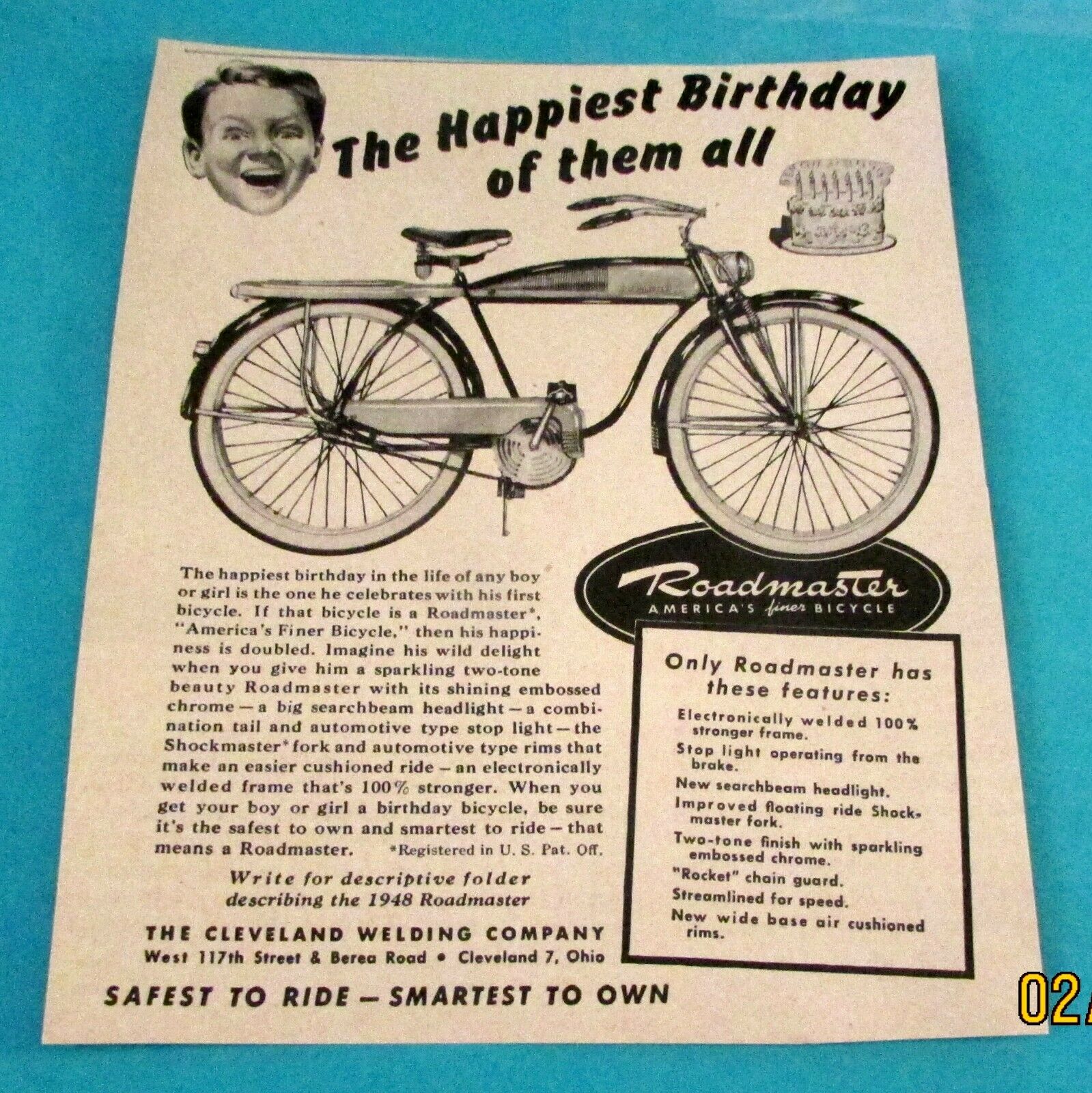 March 15, 1948 ad, posted by eBay seller 3girlsanddog.
This is the same base image as the 1947 ad. This can be seen most readily in the reflections on the fenders, which are identical. It was edited to show a completely different saddle and whitewall tires instead of blackwalls.
An ad from
Li'l Abner Comics
, August, 1948, posted by Tumblr user Vintageadsmakemehappy, shows the exact same details, with some additional description.
This 1948 ad (month unknown, but presumably later) posted by eBay seller eauctionmanagement shows the change to "Coke bottle" style handgrips.
This image, presumably 1948, of Cleveland Indians baseball player Bob Feller, is reproduced from
Bob Lemke's Blog
. The image shows heavy retouching, perhaps because the photo was taken at night. It's not clear to me whether the end of the older style grip is poking out past Feller's hand or not.
This advertisement, posted by Flickr user 43° North, shows the changes that occurred in 1948. The fenders are now entirely chrome, and the rear fender has the same set of ridges at the bottom as the front fender. It appears that the seat is also a lighter color leather.
The "Reissue"
The
1998 "reissue" of the 1948 model
shows some items that are not present in any 1948 ad that I have seen: bent truss rods; "Luxury Liner" decal on the chain guard; chrome fenders; and a seat with a crash rail. (I don't aim to show exactly when these changes were made - I am sure that they have been dealt with by others elsewhere, and far better than I can approach here - and I welcome that information - my purpose here is just to show the change from the black fender Luxury Liners.) I bring it up because it is labeled as 1948 and because so many of the parts from it have ended up on the early bikes.
Actual Bicycles:
I've been able to locate two unrestored examples: one that was
first owned by SimpleMan
and then
later owned by Hawkster19
, another in
the collection of Flickr user Tim Keith 59
, and mine, above. There is also one that appears to have been restored,
in the collection of Nickinator
.
I see a couple significant differences between the two unrestored bicycles for which I have detailed photographs. While both have Bendix hubs, the Tim Keith 59 example has semi-drop center rims. The SimpleMan/Hawkster19 example has Persons Supreme pedals, while the other has some sort of waffle pedals. The Tim Keith 59 example does not have crash tabs on the seat. The two have different stems and seat post clamps - and my example shares one with one and one with the other, I think.
Originality Questions:
What pedals are be correct?
Which wheels are correct, and approximately what years of Cleveland Welding Company bicycles would I expect to see them on?
What range of CWC bicycles share the rear fender? Was it offered on any of them in black?
Was a certain brand of grips used?
What parts are needed to make the brake light work?
What stem would be correct?
What seat post clamp would be correct?
I appreciate any and all insights here. I really hate to make any originality decisions based on a sample size of two, and would love to see photos of any other original examples.