I haven't done anything more with the Columbia with the pull but I trash picked a junk Huffy balloon tire bike the other day. Its a steel frame Walmart bike with similar geometry that's been bent.
The bike is hit in the middle, bent about 2" at the seat tube, so much so that the rear tire was locked against the left chainstay. I re-centered the wheel as best I could, and tried to ride the bike. My intent was to see what affects 'pull' or handling in which way.
This bike is bent inches, not degrees and it rides perfectly straight, The rear wheel is leaning hard to the left in the bent frame, the seat post is bowed in the middle and the head tube is tilted 1/2" versus the seat post yet it don't pull. Both wheels are perfectly true somehow. I intentionally bent the head tube the opposite way putting it almost an inch out of alignment with the seat tube or bb, and still no pull. Doing that made it hard to turn left but it didn't pull or self steer. The rear of the frame is so bent that the rear wheel is all the way back in the right dropout, and all the way forward in the left to get the tires to clear the frame. The seat tube is bowed in the middle so bad the seat is tilted to the right.
I realize that none of this is scientific but the bike was junkyard bound either way so I figured maybe I'd learn something, but no matter how I bent the thing, I couldn't give it a pull like the Columbia has. The frame is bent so bad that the rear tire is outside the fender at the top and almost rubbing the right seat stay.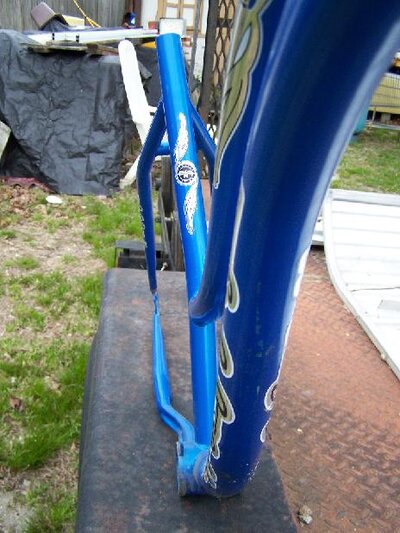 This isn't a classic or anything worth saving but it boggles my mind why a bike like the Columbia which looks and measures straight as an arrow pulls so hard to once side yet this pos that's nearly folded in the middle and leaning to one side rides in a dead straight line.