A friend offered me this photo about a month and a half ago. I wasn't sure on it because I felt it was a little pricey…I told him let me think on it…I didn't say anything about the price because his prices are usually very fair and I didn't want to sound like I was complaining about the price…
I showed it to a another friend Jesse McCauly who is an advanced bicycle collector…and he liked it…He said photos of triplet racing bikes were rare…He said he knew a collector who might have the same bike in the photo…made by Dayton…that did it…I was in the saddle…sort of confirmed what my intuition was telling me…but money was tight as usual and I asked how long before he would put it on the market…He said as much it wasn't going anywhere soon, that he had a lot of other stuff to move first…I ran into him at the last Alameda Point Antiques Fair and he said he brought the photo out in his car…we agreed to meet up before we left so I could see it…Once I saw it in person I wanted it and ended up buying it there in the parking lot…I was all zapped out from walking the show on five hours sleep, plus I'm not a morning person anyway… so it wasn't the ideal way to buy something but it was sort of like….in my head I was thinking just get it…Actually that is very common…I don't know how many times I've pulled the trigger on stuff when I was half asleep early in the morning…But I'm usually glad I did afterwards…and this was one of those times…Following day I unpacked it and am very glad I got it…matter fact, more I look at it more I like it...
Several aspects make it great in my book…Size, 17" x 14", that's a great size photo for that early…the bike…the Dayton make is given in the title verbiage…and speaking of title…there's all kinds of information that really makes the photo…the title announces the event was for a "World's Hour Amateur Unpaced Record"….which indicates the event was for distance covered in one hour….as opposed to the amount of time to cover a certain distance…And we know it was for amateur class…and that it was an unpaced race….meaning they were not following a pace vehicle….which was common in bike racing to follow a pace motorcycle back then…(I'm including two examples of paced bike races)...Another big plus is the location of the race is given, Point Breeze Track in Philadelphia…and the cherry on top is the racers are named…need more time to research it…
Further research seems to confirm the "Century Wheelmen"…in the title designation "CENTURY WHEELMEN TRIPLET TEAM" refers to the Century Wheelmen Club of Philadelphia. I found a photo of the Century Wheelmen's building, being their club house. I added that photo to the line-up here…I also found a list of one hundred Philadelphia cycling clubs in the January 2, 1898 Sunday Philadelphia Inquirer which I also added….along with the complete page it was from…since the whole page is on cycling…It's clear cycling was very big in Philadelphia right before the automobile came on the scene...BTW…I also found a new clipping reference to a Century Wheelmen's club in New York city I'm also throwing in…I haven't even gotten into researching the racers more than a cursory look before I bought the photo…I like researching but it takes more time than I have…
Then today I found this Dayton Bicycles sign....picked it up about twenty years ago at the old, now defunct, PMA antiques show in San Mateo....I remember the seller had it displayed on the floor in the front of his booth leaning against table legs...as I recall it sat there the whole three days of the show no one bought it...I probably got it cheap at that point...just so big no one wanted it I guess...Been saving it for when I display all my bike stuff together...what a monster at 70"...Gosh I like the bright yellow and blue...Of course I need to get it restored a little and framed up...but it's in pretty good shape...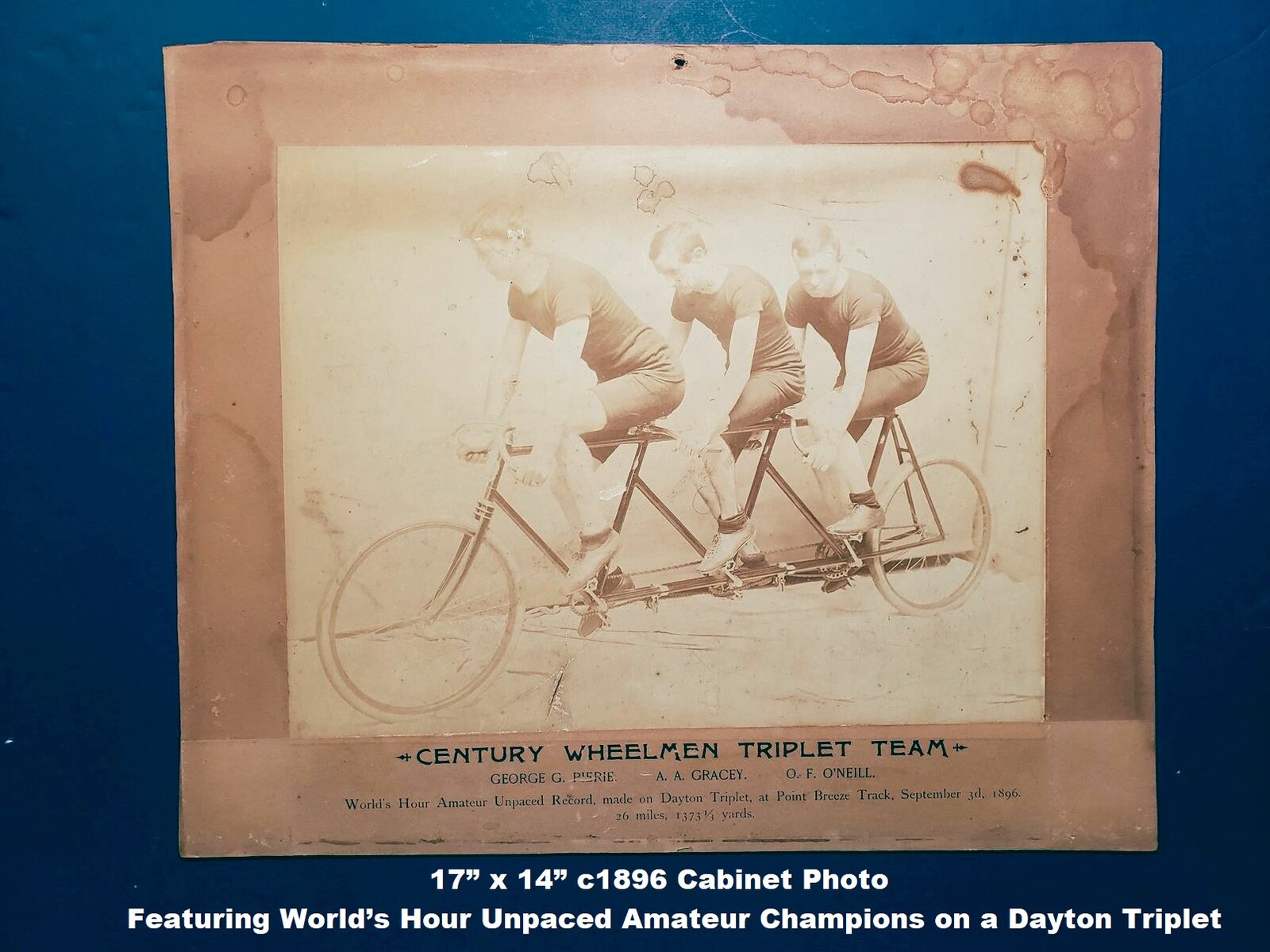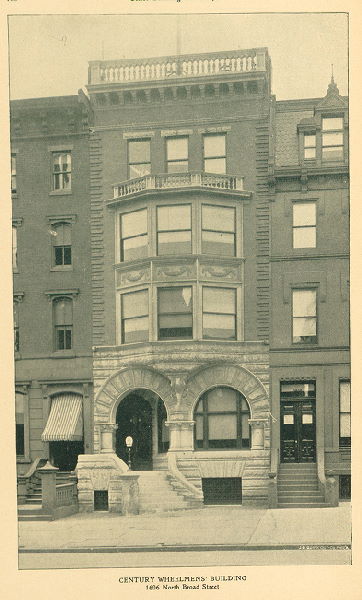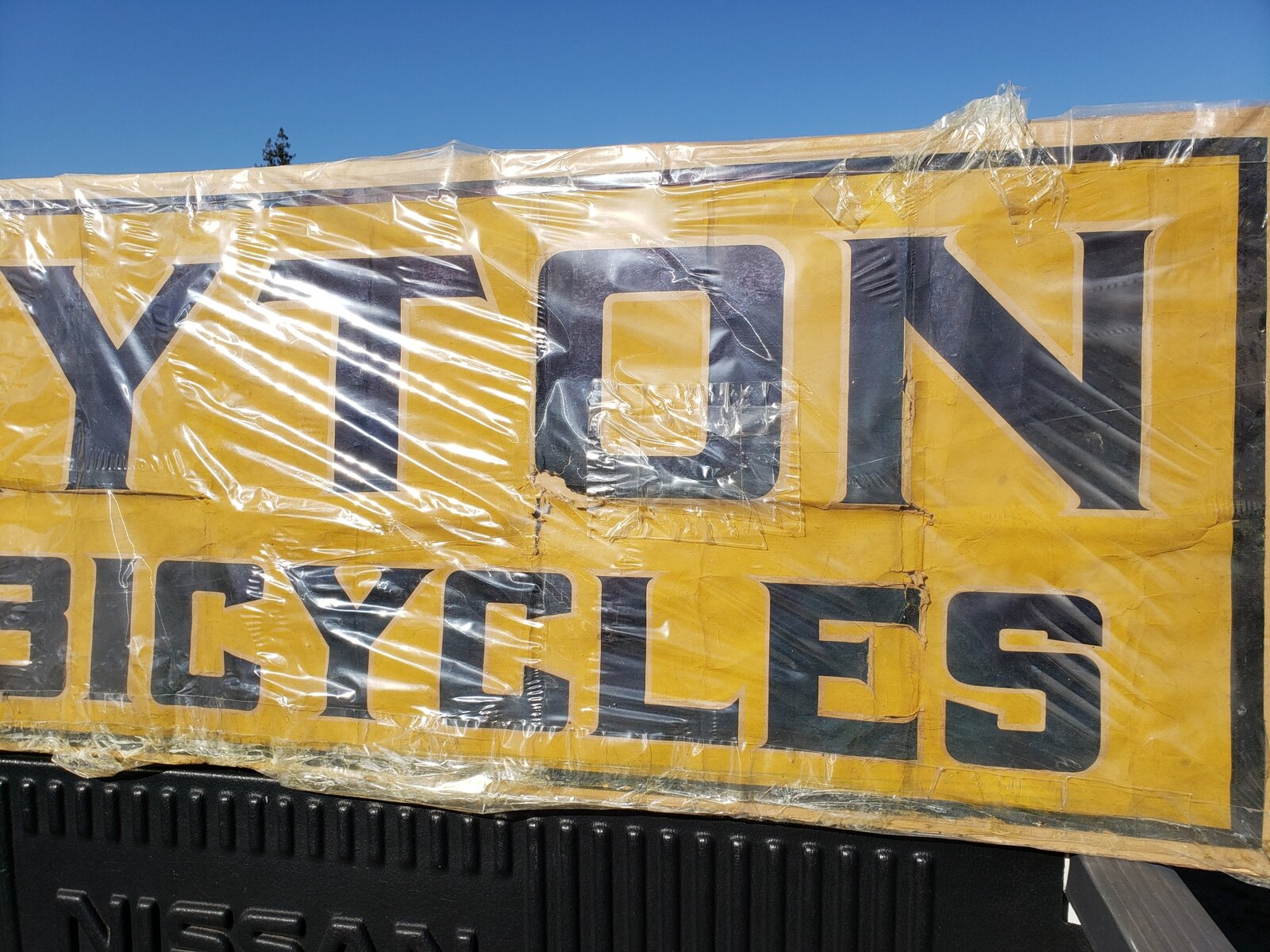 Last edited: