Growing up, I was always a lightweight guy. 3 speeds, then 10, then 15. But now, the process is reversing, less seems better. I was finishing some work on a early 70s, single speed Schwinn Speedster, that I want to use for commuting, when I was hit by a desire for a heavyweight. So, I bought this Shelby Hiawatha off Ebay. It was cheap enough, $100 plus shipping.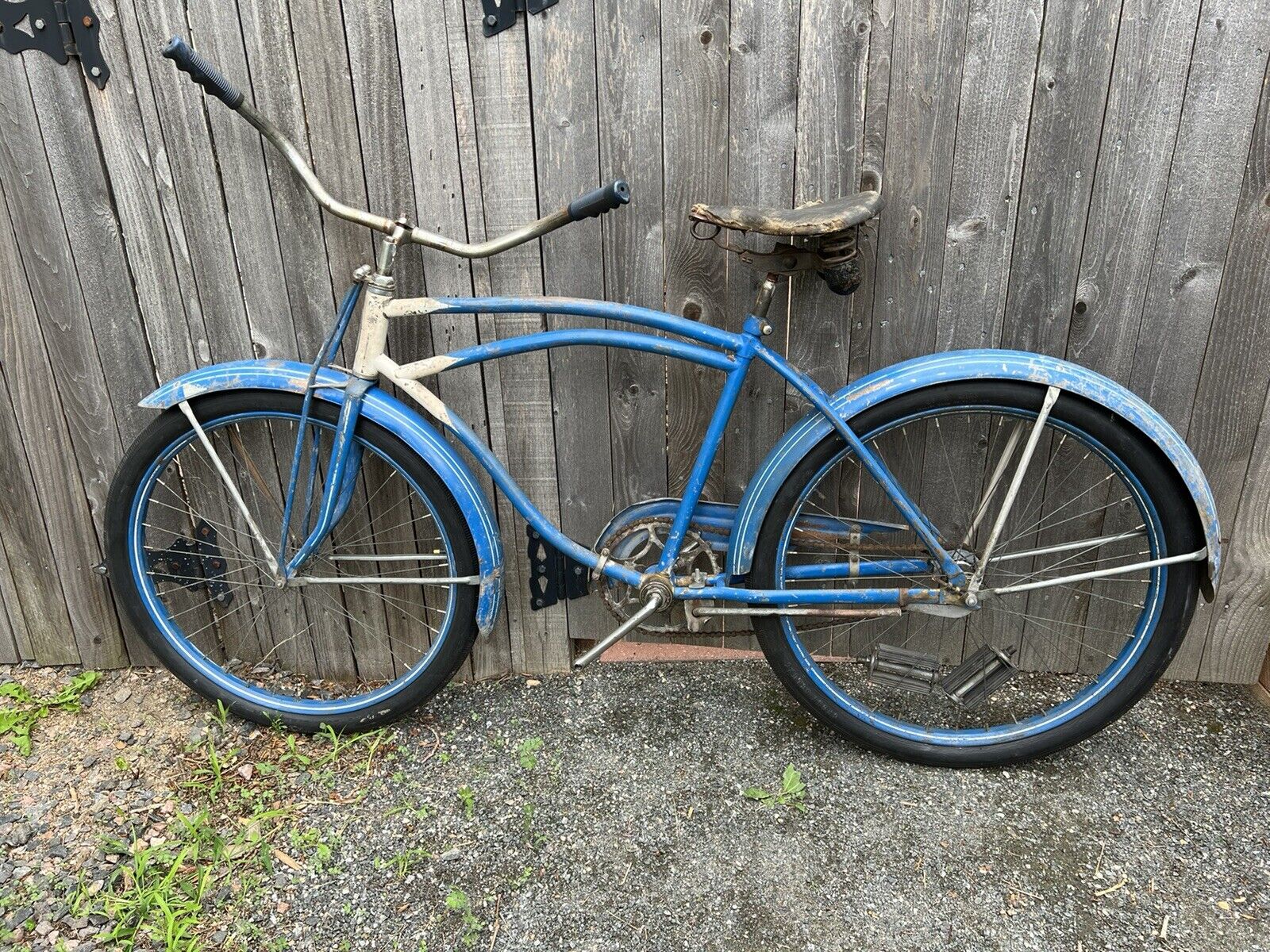 The seller's auction said
"Shelby Hiawatha Men's 26" Balloon tire (2.125") bicycle. Got in a package and don't need. Probable early post war bike with truss rods and airflow style guard. Tires are serviceable. Had a non-original chain ring which I replaced with pre-war Shelby skip tooth. Hiawatha badge meaning sold from Gambles. Weathered and worn original paint. Pinstriped wheels match color. New Departure skip tooth rear works well. Good rider with good bearings. Seat is sturdy and still has original cover. All components seem original to bike with possible exceptions of pedals, grips, and tires"
I pulled it down to bits to remove rust and dents, grease and oil, and put on new rubber, etc. Here's a few more of the seller's pictures from the Ebay auction. I can take more pictures of details as I reassemble.
I wonder if anyone can tell me what this particular style of skiptooth sprocket is called?
I'm pretty happy with the condition of the bike. The paint is rough, but mechanically everything seems pretty good. I only found one bad cone in the front hub so far that needs replacing, and one ball missing from the neck. It seems like somebody had the bike down to bits already. All the fasteners have come apart easily and one of the bearings in the crank is Schwinn, while the other says "Crown".
I'm curious about the model and year. I found this image online from a 1947 Shelby ad:
This is the only dated image that I was able to find that depicts this style of chainguard. Other details seem the same as my bike, which leads me to think perhaps mine is a 1947. I'll post the serial number on my machine later. The Shelby "Traveler" seems like perhaps it's the same model. My bike shows no sign that it was ever equipped with a rear rack, faux tank, or headlight.
The bike in the ad shows a 1/2" pitch sprocket. I'm in favor of changing over to the 1/2" pitch, since this will give me more chain and hub options. I think that this following picture might be the correct sprocket for my bike, what do you guys think? I've seen this described as "sunburst" style.
On the other hand, if the bike wasn't originally equipped with a skip tooth chainwheel, the New Departure model D rear hub would have had to have a different sprocket. I can't see the seller rebuilding the rear wheel, then selling the whole mess for $100. Are threaded 1/2" pitch rear sprockets available for the New Departure?
I'll have to think about ratio. Seems like the 26 tooth skiptooth is about 8% larger than the 48 tooth sprocket in the picture. Maybe that's a good thing. I remember the last time I rode a balloon tire heavyweight. I was about 12 years old and visiting my uncle's family. My cousin and I decided to go for a bike ride, and my uncles huge heavyweight was all that was available for me. I got about 4 houses down and realized that I'd rather walk. Pedaling that bike felt like trying to run in a dream, like I was in mollasses.