Riding a '38 Autocycle Deluxe
1939 Webb Prewar Schwinn Lever sold, Silver Ray parts light SOLD
Very good potential with good shell and bezel here, some minor flaws in the base and no guts or lens Silver Ray Headlight from the 1930s. Schwinn, Rangers, Roadmaster and others. Good parts to upgrade, chrome is presentable, not terribly pitted like most get. You are getting 3 pieces, body, bezel and base. 90.00 plus postage
Very rare and unusual Prewar Mesinger Juvenille (20") Bicycle saddle. I would bet this is NOS and hasn't been mounted before. Some shelf wear but a deluxe saddle with the stamp, (off center as they often were) and even the wear tabs! Tough to find in this condition, some minor patina but this would clean up very nicely I think.
120.00 plus postage. If you ever need one? You might not see another come along.
1938 TALL frame Prewar Schwinn bicycle frame! Hard size to find for your daily rider and not many were made with the 20" frame mast. Another Gem from the old days of Pedal Pusher Newport Beach! Own a piece of Balloon tire collecting history! Nice "B" Model potential Autocycle or Motorbike project frame! Lots of patina here for sure but
very usable.
125.00 plus shipping
1937-39 Prewar Schwinn "Hollywood" hanging tank with very good survivor large (lantern) battery cage intact and not rusted to hell like most. Tank is straight as well and sold as shown, no brackets on this one, but easy to find.
100.00 due to the rare cage that can be removed and used in the Motorbike/Autocycle tanks.
100.00 plus postage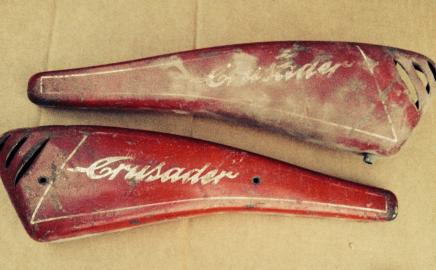 Rare Prewar Schwinn 1939-40 "Webb" brake lever for Motorbike/Autocycle etc. This one is in excellent condition, chrome looks very good, but lower strap is missing. A relatively easy part to make where there's a will there's a way. In their heyday these levers complete sold for over 400 dollars with one or two bringing 600 range. Bidding wars on ebay.
Looking for 250 plus postage on this nice survivor
CONTACT ME DIRECT AT
bobcycles@aol.com
if you have any interest in any of the above.
These are being sold for a local long time collector thinning the herd. NO PAYPAL ===Money orders, checks or cash.
Thanks
Last edited: