Finally riding a big boys bike
Here are a couple of early Simplex FDs using a pivot or swing arm lever design. One is a clamp-on mounted unit made in Italy (rare); the other is a braze-on mount (French, but rare due to mounting; never seen the frame tab for it). Very simple (maybe why the company was called 'Simplex') designs, but with limitations due to the change in the cage angle relative to the chainrings. As you shift from the small ring to the large ring the cage is at a greater angle (thus a 'narrower' gap for the chain) and it limits your ability to trim the cage when shifting on the rear cluster; not as much of an issue if using a 3 cog cluster since there won't be much difference in chainline; but I use a 5 speed cluster so that necessitates better trimming and accurate positioning of the chainrings (BB spindle length/offset) as well as set-up of the FD. Both units can have the cage position adjusted on the lever arm, as well as being able to set the lower limit via a screw located beneath the pivot knuckle which hits the seat tube. That bolt will cause damage to the frame unless a small thin bumper or tape is placed on the seat tube. The early Italian unit has no upper stop boss while French one does, but again it will mar the frame so again the seat tube must be protected. The upper boss is not tapped for a screw so all of the set-up must be adjusted properly to keep from dropping the chain or you need to be careful not to overshift too far. Lever friction can be adjusted on both units at the pivot via the butterfly nut or hex nut.
Both units are fairly lighweight (under 150g) in my opinion. Primarily steel construction, but no added weight of a cable. I should compare the weight with a more 'modern' (70s-80s) alloy body steel cage FD (90-110g) with cable included to get a better idea.
I have not used the braze-on unit since no frame on which to mount it. Also, not sure that all pieces are there; I could not get friction adjusted on the lever enough to keep it at any position. Probably a missing thrust washer and/or spacer; something I could easily fabricate if needed.
I need to replace a worn fiber washer/spacer on the Italian unit which presently functions fine with the original; again, easily fabricated.
Late 40s Italian unit: 148g
Late 50s French unit: 133g
Comparison shots (left: French braze-on; right: Italian clamp-on)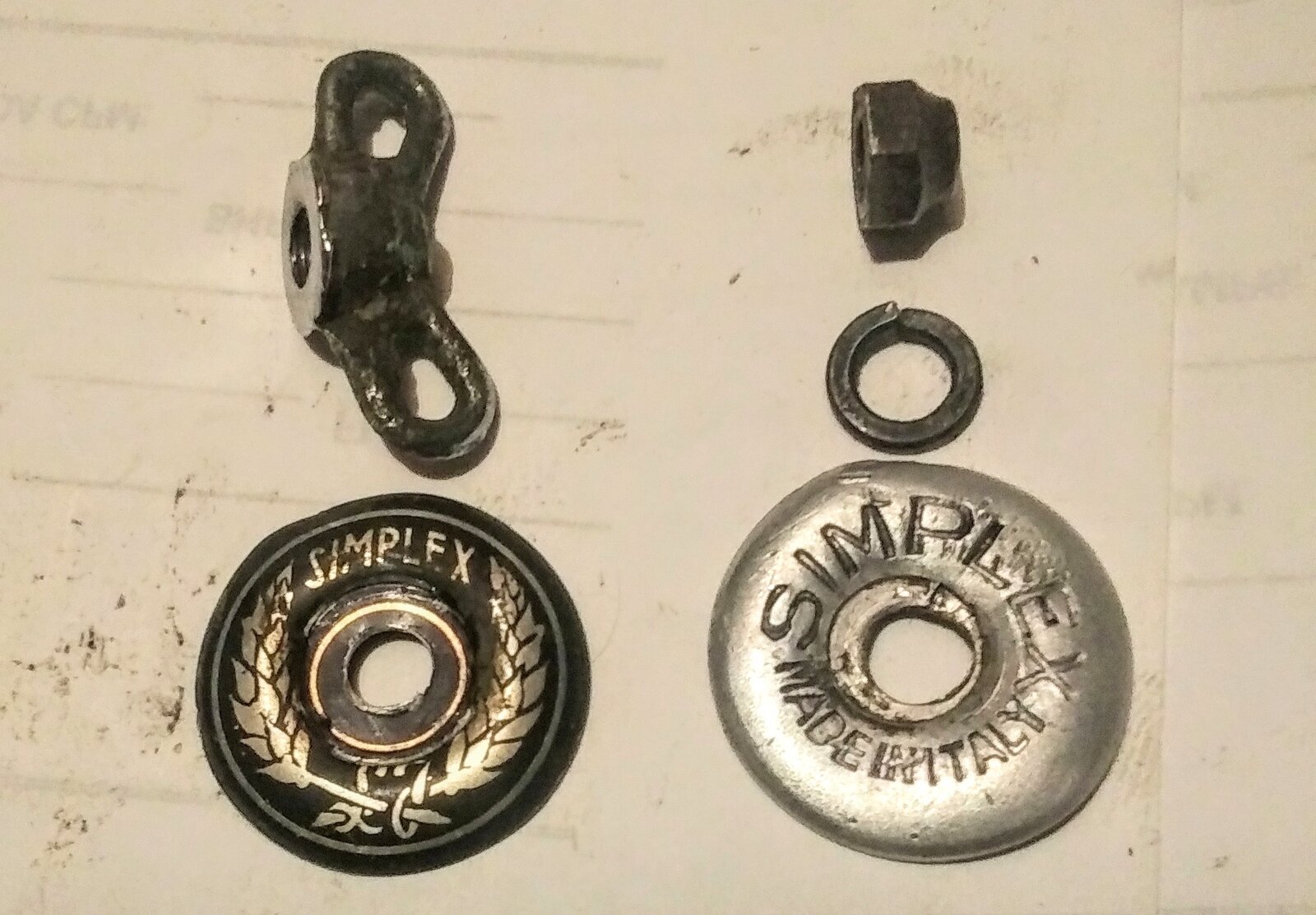 Last edited: