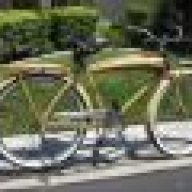 Wore out three sets of tires already!
Oct 23, 2011
856
Las Vegas
I have decided to sell my 1938 Cleveland Welding Company 3-Gill.
This is a 100% complete original bike with very rare "reverse" paint scheme. Original paint, original seat, original tank and light, original reflector. Steering lock (no key).
Comes with the original light and switch hardware, and the tank horn button and mechanism.
Rear tire not holding air, probably needs a new tube. small crack in light lens. Repop grips. Otherwise she is a great daily rider! Tires are 5 yrs old, but only have ~5 miles on them.
Asking $1500. In Las Vegas.