Riding a '38 Autocycle Deluxe
Bunch of stuff from a sacrificial lamb I just slaughtered...
Truss Rods, Tank, Bars/stem, red Pedals....sold!
#1 Super Nice and SUPER straight prewar DX Feather guard...works on Cycle Truck and others..I've even seen
the 'flat profile top" in factory chrome occassionally on the B models or "deluxe" bikes.
Original brackets are nice...guard is a cream puff! hard to find in this condition.
100.00 plus the ride

bobcycles@aol.com
or PM here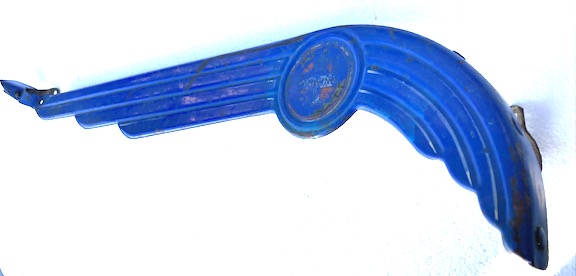 TRUSS RODS SOLD----
#2 VERY nice original prewar Non locking truss rods for Motorbike, DX, C model etc 26" bikes.
Chrome is very presentable for original bikes...I'd say 7 or better on 10 scale.
125.00 plus the ride




TANK SOLD------
#3 Prewar DX 1940-41 ladies horn tank with an unusual "embossed" tank paint treatment...
Tank is straight, some minor surface rust on the bottom corners.. Comes with a complete
"EA" Horn unit.
125.00 plus the ride







#4 Prewar 24" bike Locking fork with original Arnold Schwinn & Co "Automatic lock" Co. cylinder and key.
This was from a 24" ladies bike meaning the steer tube would have to be shortened a bit to fit a 24" boys
prewar or postwar bike. Nice straight fork with deluxe paint, pinstriped dart.... lock works perfect!
125.00 plus the ride




BARS STEM SOLD----
#5 Torrington Steerhorn bars and "AS" razor stem with old orig Jewel coke bottle grips missing the
glass jewels. Stem as a few minor hammer marks from little Timmy whamming it up and out at some point,
pretty minor. So So presentable chrome.
100.00 plus the ride






#6 Prewar Smooth Top Delta Torpedo Front loader headlight. Guts look good, switch is fine. paint
not so great, one small ding on the tail end. Original lens and bezel and twisty reflector cup all in tact.
85.00 shipped!






#7 Prewar 1940-1941 complete B model deluxe head set. Same as Autocycle and others... patina
but good condition, top nut has crisp edges...not wrenched on, totally complete with prewar bottom
cup and nice useable and should clean up hard to find bearing rings....You also get a Trains and Planes
original badge...pkg deal
85.00 shipped!


PEDALS SOLD----
#8 Original Prewar red block ladies deluxe Torrington 11 pedals .. Nice legible end caps and still retains
some nickel plating shine. Perfect for the 1930s original lady!
65.00 shipped!


Last edited: