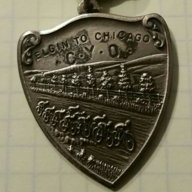 Wore out three sets of tires already!
Aug 6, 2009
780
Alexandria, Virginia United States
Found a Women's 1943 M306 for sale a few weeks back. Missing the light and bell and pedals. Seat may be post War. I hope to strip off the house paint to the original OD. A buddy of mine picked it up for me and I will take possession this weekend.
Sent from my SM-N950U using Tapatalk