Riding a '38 Autocycle Deluxe
Sep 30, 2006
4,795
13
so cal beaches
First up----
Whizzer 24" S-10 Ambassador etc front brake front wheel ...... Drum brake works...plating is pretty bad...silver paint
over pork chop and the hub is pitted, needs a rechrome. Stops and works. Spokes look nice and new..Rim is a
double knurled Reproduction S-2, Tire is an old Cordovan, not pretty. Complete wheel that functions as a drum
brake but no prize
180.00 plus postage
bobcycles@aol.com
or PM here.....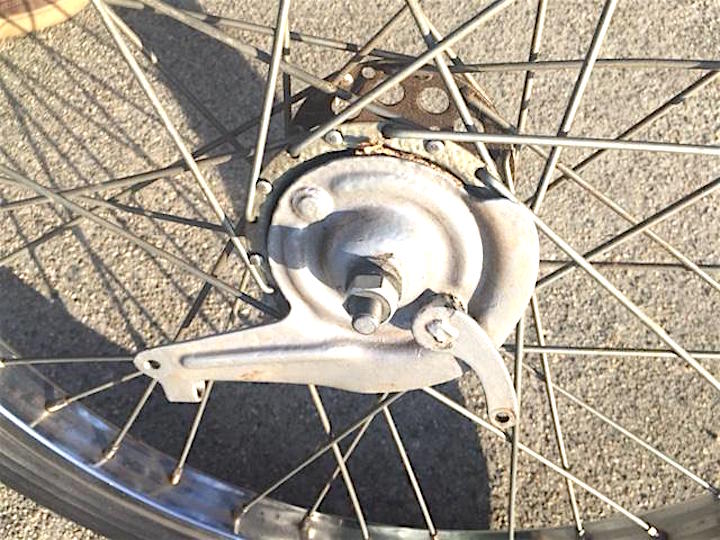 SUPER Nice partially restored Prewar wheel set with NOS COKER Tires...SChwinn Typhoon Cords from the 80s.
These were pulled from the wrapper and mounted recently ...never ridden. Hoops are rechromed nicely.... spokes
are nice cad plating, not double butted...straight gauge....nipples are long 4 sided torrington. Hubs are Prewar
New Departure... All in all a pretty darn decent wheel set.
250 OBO plus the shipping
bobcycles@aol.com
or pm here
1936 Schwinn motorbike wheel set removed from a 36' carcass.... looks to be
restorable....I tried to clean a small area....almost looked ok for rider... hubs
are grimy and will need cleaning... Matched original set from the same bike..
ideal for restoration when you want to be sure you're using the correct profile...
for a build...
100 for the pair plus postage OBO
SUPER RARE Whizzer S-10 Springer fork.. Head tube length is standard 26" bike....legs below the pivot
are 24" bike (s10 and Pacemaker).... NICE fork...possibly NOS with shelf wear from storage for years sitting in a
building. Impossible to find when you need one
275.00 Plus Postage
EXCELLENT Matched pair of GOOD YEAR Studded balloon 1950s era tires for Whizzer...
like the legendary Double Eagles.... Maybe better because they don't get as dry ...
This pair is excellent for original...one tire appears NOS the other has slight top tread
wear...both have NO cracks and are soft and supple 26 x 2/125.
Don't ride on Chinese Goodyear crap...Perfect for your WZ Whizzer
100 for the pair plus shipping
EXCELLENT rechromed Whizzer Schwinn drum brake hub....looks nice! Has the big holes for the larger spokes
Included but not shown NOS dust caps and lock nuts...all you need is axle, bearings, cones and outer nuts.
90.00 plus postage....
NOS Whizzer? Taillight with bracket....Nice lens...looks good! Maybe for the Bi-light set up, not positive..
50.00 OBO
plus postage