Finally riding a big boys bike
Aug 17, 2019
153
55
Huntington Beach, CA
This is a teaser for what is to come… I am excited to be involved in the resurrection of the famed Pedal Pusher tee-shirt. What started out as "gosh I sure would like to have a couple of those shirts again" is turning into a reality. First mentioned in this thread here:
https://thecabe.com/forum/threads/help-me-with-detective-work-the-pedal-pusher-newport-beach-ca.50134/
After a couple of PM's, texts and phone calls to and from knowledgeable parties we have decided make this awesome tee-shirt design available again.
Attention to detail is key here. Next week I will begin creating a faithful rendering of the original artwork in Adobe Illustrator, from brand new, NOS shirts (just a little shelf wear) that have been lovingly cared for by legendary collector and student of prewar Schwinns, my friend Charlie Churchill, a former Pedal Pusher employee and dear friend of the Pedal Pusher family.
Shirts will be silkscreened on the front pocket and back side of Hanes Beefy-Tees, just like the originals starting in the 1970's.
Shirts will be made available in the original colors! Hanes still makes shirts with the front pocket in all of the colors originally offered at the shop in Newport Beach, CA. If I am not mistaken the Pedal Pusher shirts were made in:
white
yellow
gold
light blue
Kelley green
forest green
red and maybe grey.
No black shirts..
If anyone knows of other colors that were offered back then let me know. Shirts will be fairly priced (guessing $18-$20 range), as I will be sourcing shirts directly from Hanes. I will draw the artwork, have screens made, and pay a local shop to do the silk-screening, take orders, collect money and ship them out. It is not my intention to make money doing this, but it is my intention not to lose any either. I am just facilitating here…
Just wanted to float this out there and see if there is genuine interest. If nothing else, I am making one or two for me! I won't be accepting any money until screens are made, and I have selected a silk-screener. Blank shirts in your desired colors and sizes will be sourced from Hanes and then I will turn in an order. Let me know if you might be interested, and if so what colors, sizes, how many?
I will keep everyone posted on the progress, the next announcement will be to take orders!
Thanks!
Mike
BACK OF SHIRT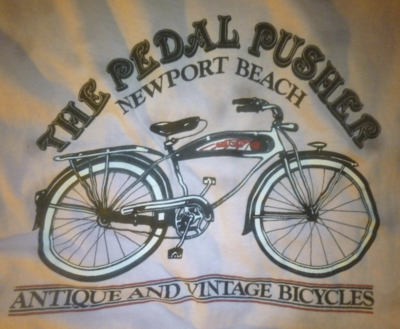 FRONT POCKET
image from @markivpedalpusher
Last edited: