Wore out three sets of tires already!
TL;DR: Build quality is cheaper than vintage Krates, but for $500, you definitely get $500 of Krate. The post also contains details of how I modified mine.
To begin,
Before: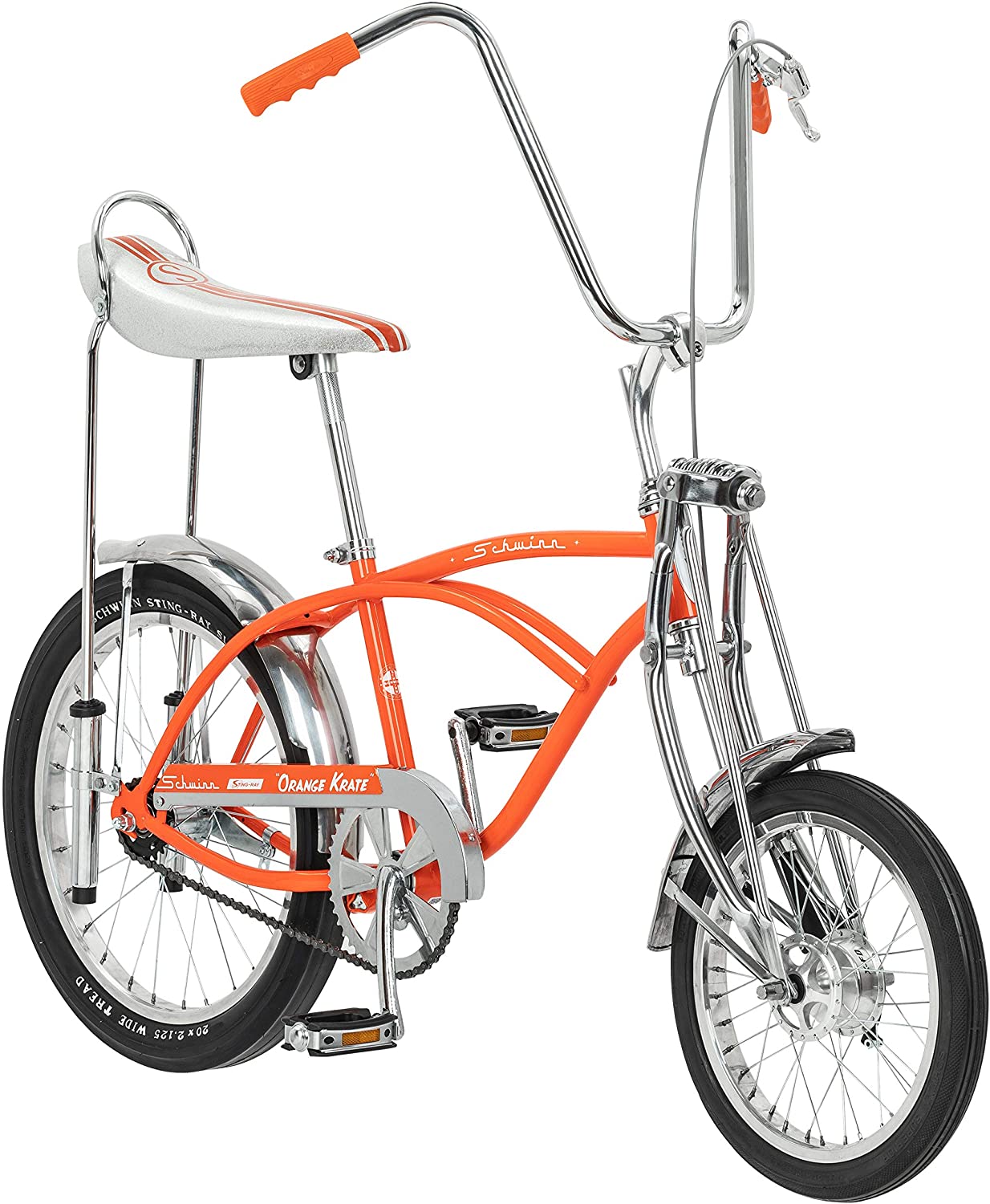 After:
As it sits, the 2020 Orange Krate is a decent bike. As I see it, it's not about copying a Krate but being the
idea
of being a Krate. It's about the Krate
experience
, and that it does quite well. Yes, there are a good few issues, which I will detail, but I still think that you are getting your money's worth.
For $500, you have a running Krate with bright chrome and paint and solid new tires. While it doesn't look exactly like a 1970 Krate, it also doesn't have the liabilities of a 1970 Krate in this condition. Take it out in the rain without worry. Install accessories without worrying that they might scratch it. Modify it, even, as you see fit.
Yes, there are a few people who will see that it isn't a 1970 bike, most will just see a 40 year old guy riding a really fun bike with a huge grin on his face.
I've done a good bit of work to modify this bike to look more like a vintage Orange Krate. The most glaring issues have been addressed via common, readily available vintage Schwinn parts.
Her name, by the way, is Gloria, because she is almost Day-Glo orange.
The Build:
An Orange Krate with a warehouse damaged box showed up on Amazon at a price that I just could not refuse. While I was awaiting the delivery, I began planning, figuring out issues, and setting aside parts that I had sitting around, almost all of which had come from a couple circa 1970 Schwinn road bikes.
The chainring and the neck bugged me the most, and were the first to be swapped out. One could go with a Schwinn "Mag" sprocket, if one really wanted to, but the price doesn't seem worth it. That said, if I can find a cheap one at Memory Lane, I'll probably jump on it. I also went with Krate* pedals. Because of the shape of the chainring, I did have to use a washer as a spacer to move it away from the frame a little bit. The stem was swapped without issue.
*I am not sure if they are actually Krate correct or just close, and I really don't care to go down that rabbit hole. They look correct, and for me, that's good enough.
Hardware:
The Philips-head screws, bolts, and some other fasteners came next on the list. To me, they really stand out, and are an easy fix. The biggest challenge here is that the fasteners on the 2020 Krate are all metric. The easiest swap was to replace the screws on the fenders with rivet screws. The chain guard was a bit more difficult, as both of the holes were threaded. I tapped both of them out to the correct size and installed vintage screws.
I replaced the bolt on the seat clamp, and intend to replace the seat clamp itself, but because of size differences, that is going to require some quality time with a Dremel and file. The bolts that hold the sissy bar bracket and fender to the frame were replaced with modern ones.
The front wheel nuts are next on the agenda. To my surprise, none of the obvious places - not even McMaster-Carr - have straight M9x1 nuts! (They're all either flared or domed or lock nuts.) I'm going to see what lurks at the swap meet tomorrow. I may just go with flared nuts.
Wheels and brakes:
Both wheels feature somewhat polished aluminum rims, 28 hole in the rear and 36 hole in the front. The rear uses a coaster brake. The front wheel has a Sturmey Archer drum brake. Curiously, rather than the brake arm attaching to the frame via a strap, a piece has been welded to the fork for it to slide into. I presume that this is to make assembly easier for the lay person.
I really really really thought that I wanted a Schwinn Stik Shift. It's, like, the coolest, right? So I needed gears to shift. I had a couple Sturmey Archer three speed hubs, but they were all for 36 spoke rims.
On eBay, in the UK, I stumbled upon a 28 hole Sturmey Archer 3 speed hub with a drum brake, made in 1970! It's not quite the level of cool of a disc brake, but it's getting there.
When I built the rear wheel with the new hub, I polished it beforehand. While it is more shiny, it's worth remembering that aluminum shows marks far more readily than chrome.
The brake levers were replaced with period Weinmann yellow dot levers.
The gears are to be shifted by a thumb shifter, because the stik shift is too expensive and I like having the clear space on the top tube.
The next step is to get the cables installed. The big challenge there is figuring out the routing of the drum brake cable. I really don't want to run it along the bottom tube, because I don't like that aesthetic.
More to follow in the next post. For now, enjoy some images of the best 2020 Orange Krate around. (I'd love to see a better example. I'd be curious about what they did.)