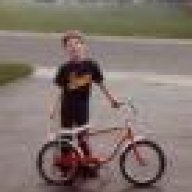 Finally riding a big boys bike
Dec 2, 2010
264
118
Minneapolis, Minnesota
The Robin Resurrection
I've been infatuated with the Elgin Robin since I first saw one several years ago. I think it's a striking bike whose design really encompasses some of the best styling cues of the time. Plus, I think the Zeppelin design of the tank is probably (arguably) the coolest bicycle tank ever made.
Realistically buying a complete Robin was not something that I could comfortably afford to do at this point in my life. But, because I'm a really impatient person I decided to acquire it on the, "Johnny Cash Plan" a.k.a. "One Piece at A Time".
. Obviously there's almost no worse way to build a project bike. It's pretty much guaranteed to take the longest amount of time and cost the most amount of money. That said, I don't mind a long-term project.
The plan is to gradually compile all of the correct parts piece-by-piece until I have a complete bike cobbled together. Once that is accomplished I will probably begin to go through what I have to make it pretty. It appears the original paint is long gone on the frame so I foresee paint and body work in my future. At this point I'm imagining doing more of a, 'back to new' restoration but I wouldn't rule out the possibility of a more weathered "patina'd" look.
After a few failed attempts over the years to find a project Robin I finally came across this tank for sale earlier this year. Yes, unfortunately the tank is a fiberglass reproduction, but it was available and in my budget- two qualities I don't expect to find in an original Robin tank. I may keep that on the bike forever or perhaps it will just be a placeholder until I can both find and afford an original tank.
In my pursuit of the elusive Robin I made the foolish mistake of setting up an EBay alert for the term, "Elgin Robin" so that every time a part or bike was listed I got an email notification. About a month ago an early model frame came up for sale and I impulsively bought it before I really gave it more than five minutes thought. It was a little beat up but really made me feel like I had a good foundation for the project.
Last edited: