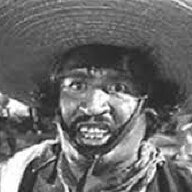 May 4, 2014
2,998
Planet Mongo
Back in the spring of 2015 my wife [pictured above] got a call from her friend that they were about to toss out a bike that they had bought back in 1973. It was a Schwinn tandem. The wife said, "I'll send my husband over to get it. We'd love to have it." I said,
"I DON"T WANT NO STINKEN TANDEM!
She won. I got the tandem. She forced me to buy two new saddles for it, as the originals were too "hard." I also put a nice 70's Schwinn rear carrier on it., so she could carry "things" on the long trips she wanted to take on it. We rode the stinking thing "ONCE."
WELL IT"S FINALLY GONE! I put the original saddles back on it and I gave it to a friend who "loves" selling bikes. All I wanted for it was 100 bucks. He sold it today, 5 hours after he put it in front of his house, for 300.
NEVER buy a tandem. They're big, bulky and a pain in the ass to move around and store and, you will ride them maybe once, maybe twice, but never again.