Jun 26, 2009
1,792
Portland Oregon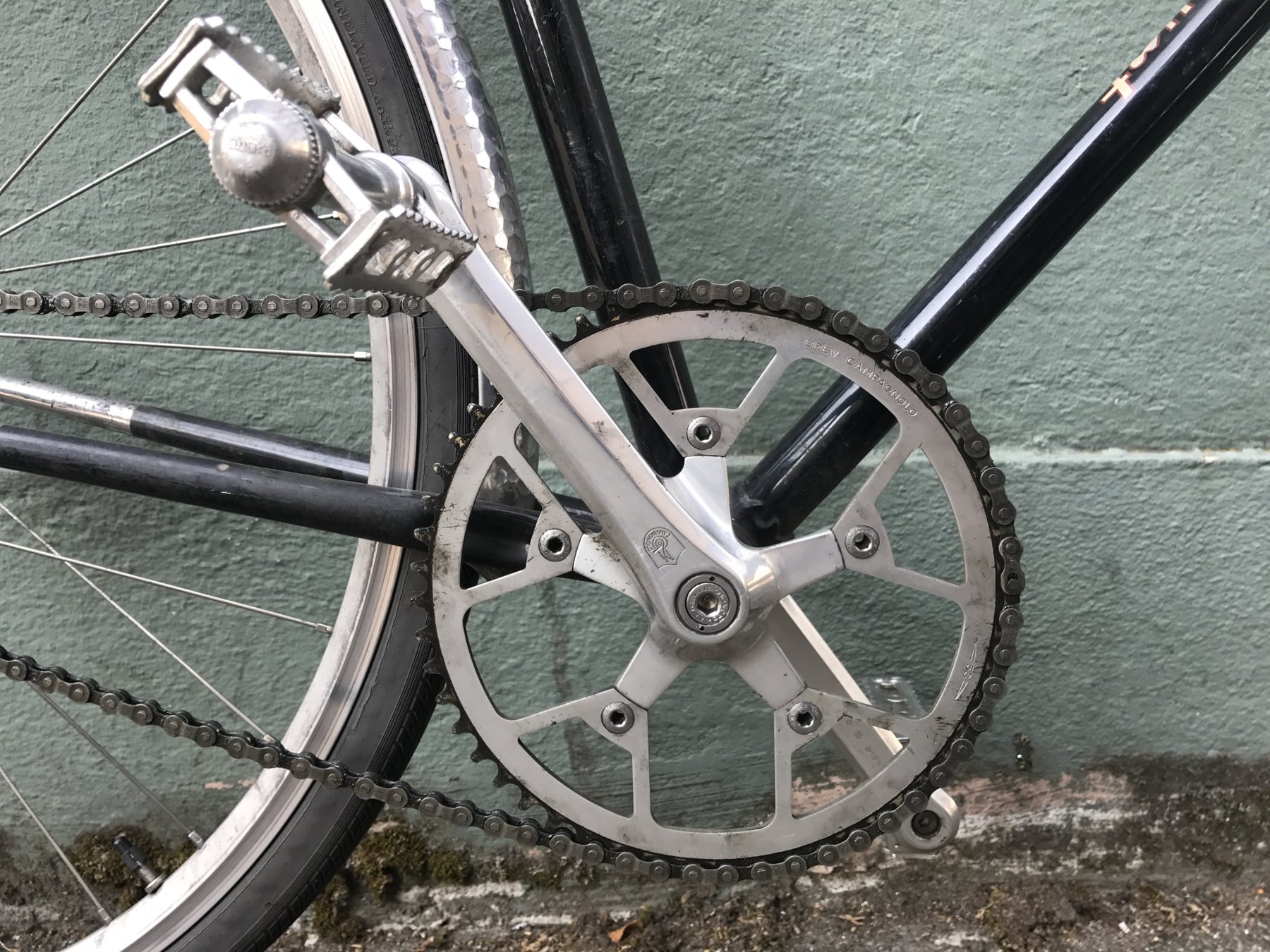 Well... not a bicycle I desire to move, its my commuter, most comfortable rocken bike i have ever owned rode/ride on a daily, the past 1 yr 1/2
Hard to put a number on this bike.
Anyhow!
Hers the scoop.
57cm C t C seat post.
1963 serial numbered frame W/matching fork serial number. Some repair work and touch up paint on the frame, top bar, couple small dings. Added an earlier Walt Disney Paramount decal, looks good, it looks painted, and adds style to this bike.
The only original parts from the factory are:
Frame, fork, BB Campagnolo, headset Campagnolo and an upgrade early Cinelli script Millano stem and Campagnolo seat post. Not pictured in add, whats pictured is a Nitto.
Added parts by me:
Wheel set is 700c Velocity Diads, running 32m tires. W/Chris King rear Buzz hub single speed 22t cog. Front wheel is same hoop, front German Schmidt Dynamo high flange which powers my front light. Rear spacing was set cold to fit modern wheels, not stock spacing from the 60s. Done professionally.
Handle bar was an NOS no rise 1950s french mustache bar, shimmed for the stem, no issues. Bar wrap, Brooks microfiber, just added it. Inverse VO break levers, VO break calipers.
More modern but still Vintage Campagnolo cranks set, late 80s 90s. 53t ring also have rhe 42 small ring that came frome this crank set. It was NOS when i got it for this project.
Brooks Pro copper rail pounded rivit seat.
VO pounded aluminum fender guards.
VO portuer rack.
Rims: there are used, need to be repalced ar some point, as I said i ride this bike daily, its a commuter.
Number I come up with is $2500- complete
It can be nogotinalble depending on if you want it complete.
I do not prefer to ship this, but if you provide bike flight pick up and delivery, i will pack it well.
Thx
Last edited: