Riding a '38 Autocycle Deluxe
Variety of vintage bicycle lights continued from previous post
COLSON LIGHT SOLD---
#6 I believe this is a 1950s era Colson light for the mid 50s bikes such as Olympic and perhaps others.
Nice original paint, some minor finish wear, bezel is good with lens, inside looks good.
75.00 shipped!

bobcycles@aol.com
or PM here

JET ROCKET SOLD
# 7 One of the coolest 50's bicycle lights on earth... The Delta JET ROCKET. This one looks NOS or darn close.
Inside is perfect like never had batteries....paint is very very strong, lens in tact.. pontoons are there unbroken.
A very tough light to find in any condition. I've seen these sell for ridiculous high prices over the years.
Thinking 250.00 shipped is fair




# 8---- Nice original Prewar bicycle light.... accessory light for the transition to balloon era I think?
mounts to handlebars of the B10 style Motobikes. Good condition overall and lens and clamp are intact!
90.00 shipped!


#9
BALL LIGHT SOLD
#9 Super nice "ball type" 1940s headlight I believe is CWC? lens is intact nice shape overall
very cool streamlined 1940s look to this one.
100.00 shipped!




#10 Delta 1950s era possibly late 1940s Sealed Beam glass lens light with large Delta Battery can. Minor
corrosion on one end of the compartment should not effect operation. Clamps are there... Battery box needs
paint
100.00 Plus whatever the shipping to your destination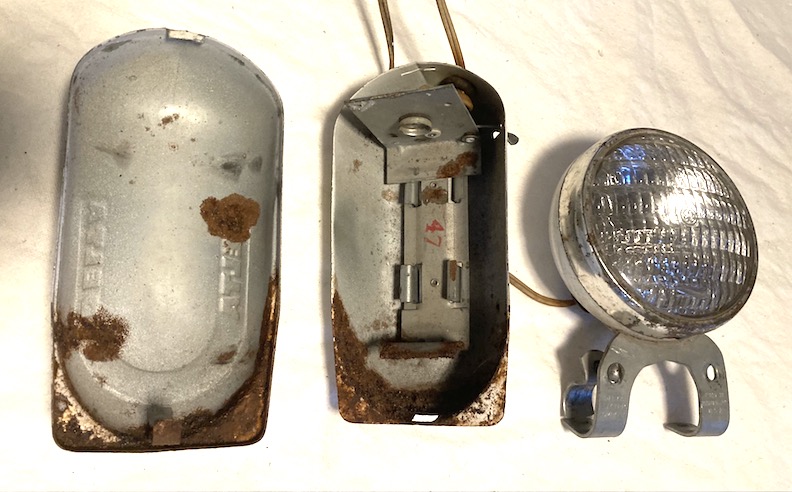 #11 Seiss Tailights...1940s era ... one is better than the other with cleaner paint and nicer guts.
that one is 60.00 shipped...
the lesser of the two 45.00 shipped!
untested
bobcycles@aol.com
or PM here
#12 Nice original survivor Wedge light...Colson etc and others. Good shape overall and
the cool version with the chrome trim band. Guts looked decent shape. Nice light
lens on board too!
90.00 shipped OBO

bobcycles@aol.com
or PM here


Last edited: