Riding a '38 Autocycle Deluxe
A variety of Flongs (https://en.wikipedia.org/wiki/Flong) these are original
1940s-1950s dry mat processed flongs used in print ads, magazine, catalogs, news papers etc.
They are all unused and pristine mint!
Several varieties and sizes available. These would look great framed and displayed, delicate
advertising pieces that somehow survived unused all these years

bobcycles@aol.com
or PM here


1--- Very cool B-6 Autocycle Large size Flong measures roughly 7x9"
"Guaranteed as long as you own it"
well, that didn't really stand the test of time did it? or did it?
40.00 shipped






2----Variety of 3 smaller flongs varying from roughly 2" tall to 3 or 4 inches length. All are mint
and perfect, showing Boys B6 and ladies version and a standard unequipped DX
all three for 45.00 shipped






3----Variety of 4 smaller Flongs with a largish 5x8 Whizzer Sportsman ad along with the same
3 Schwinn models described in above #2
60.00 shipped for the 4






4----Whizzer Sportsman Flong largish 7x 9 size, kick@ass graphics! Mint condition
25.00 shipped
5-----Whizzer Sporstman Flong 4 1/2 x 5 different format from the above larger version
20.00 shipped






6----6 Cartoonish comical Bicycle images including 2 National Bicycle Dealers Assoc flongs,
these are all smaller roughly 2 inches or so
25.00 shipped on all 6






7----7 more Cartoonish comical Bicycle images including 2 National Bicycle Dealers Assoc flongs,
again the smaller approx 2" size on these.
25.00 shipped on all 7






8----A New Lively 3 horsepower Whizzer Flong measuring 5" x 8" also Mint condtion NOS
20.00 shipped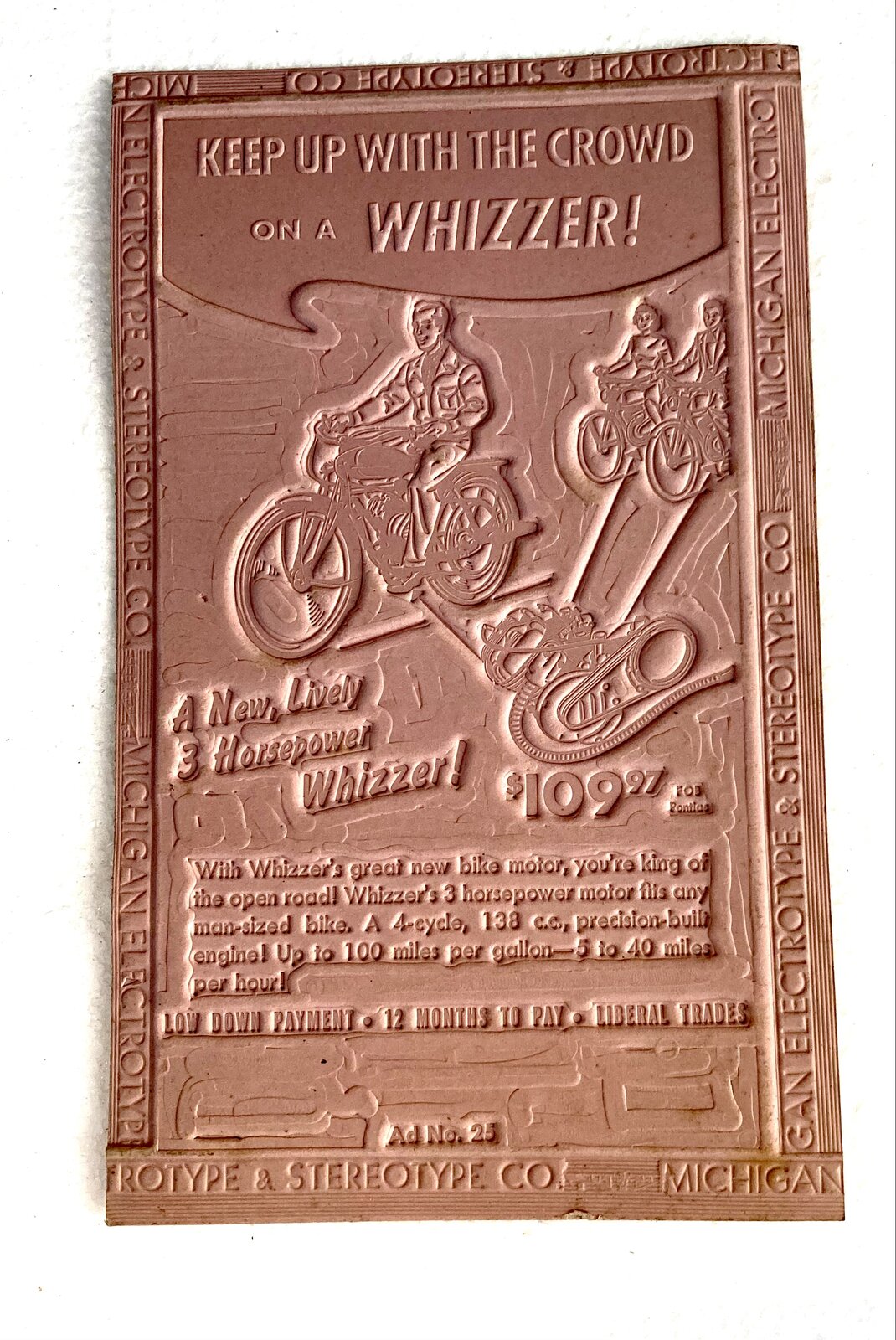 9-----Whizzer 109.97 Air cooled precision built 4-cycle design, Large size measures 7 x 8 1/2 roughly
NOS and in mint shape!
25.00 shipped