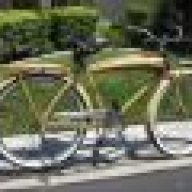 Wore out three sets of tires already!
Oct 23, 2011
856
Las Vegas
No, I'm not talking about insurance to ride and operate!

What do you guys do, if anything to insure your collection from theft or tragic loss? If the house burns down, if the floods wash it all away? Personal floaters or as an added part of your homeowners policy? Did your company need photos, or worse yet, professional valuation and/or appraisals?

What are your thoughts? I just exceeded $4k of actual bicycle expense. I know some of you guys have collections worth 10 times that.

Kinda hoping for a bunch of really good ideas and suggestions and maybe this thread can someday become a sticky.