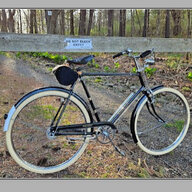 Jun 27, 2008
2,975
2,484
United States
1. 1960s Miller fork-mounted generator. SOLD
2. 1940s Schwinn cottered crank set: formerly from a tandem. Schwinn script stamps. Jogwheel has been removed and the backside of non-drive blued. Really nice plating. Straight cranks. Good chainring. Uncommon "clover" chainring on cottered cranks. These take standard 1/2 inch American pattern pedals. Great for your 1940s Schwinn lightweight. $65 shipped.
3. 1940s: three pairs of Schwinn lightweight brake holders and blocks. Sold as a lot to round-out your old Schinn lightweights or to re-fill with your choice of blocks. Schwinn embossed on blocks. Varying condition overall - some are nice and grey still, some are brown. Varying hardware - some had nuts and washers, some have slightly smaller hardware. Plenty of pieces here to complete your bikes though. $35 shipped for everything.
4. WWII era Torrington pedals with 4 inch blocks. SOLD
5. 1940s Schwinn "cushion" grips. Uncommon, higher-end Schwinn grips commonly seen on the Superior and Continental in the 1940s. Chip missing from the end of one, but useable - not all distorted with age. Hard to find grips in any useable condition. Schwinn logo is still pretty nice on these. $55 shipped.
Last edited: