Riding a '38 Autocycle Deluxe
HUBS and HUB LOTS as shown....some restored, some nice survivors...many matched front and rear sets F/S

NOTE: the 6 lots below add up to 420.00....
300 shipped for all....

or as shown below

First up!

1-----Schwinn 1940/41 prewar Hi-Lo drum brake hub with Pat Pending stamp (legible) and
axle kit. Some peppering/ patina to plated surfaces, drum area is clean, great one to slap a
pork chop on the barbie ...
150.00 shipped

bobcycles@aol.com
or PM here




2-------Very nicely restored Schwinn 1940s-50s MODEL D New Departure rear brake and
Schwinn script front hub. These are 'as found' but looking them over the plating looks very
good and even the brake clamp got rechromed! WOW! 36 holes standard spokes! Add up
the plating costs, time and labor to bring a set like this back! Ideal for a Phantom, Panther, DX
Hornet etc build up or restoration!
70.00 plus add the postage OBO






3----NICE restored postwar late 1940s - early 50's BENDIX rear brake with skip tooth cog
rechromed/ restored and Schwinn script front hub also restored and replated! Nice matched
pair for a Phantom, B6, DX, Hornet, Panther restoration or rebuild. As found but looks to be
good quality rechrome here!

70.00 for the set plus add the postage





4------NICE used but Clean New Departure Model D brake and Schwinn script front hub
in excellent shape for used. very presentable plating here on the parts! Skip tooth rear sprocket...
Ideal for postwar Schwinn balloon bikes!
45.00 plus add the postage




5-----NICE original Postwar BENDIX Hub set with Murray style front hub
ideal for Mercury, Colson, others... Nice survivor set with BIG 22 tooth
cog for easy cruising up hills etc. Condition is good for used hubs!
1/2 inch pitch on this set up!
45.00 OBO for the pair ...plus add the postage!




6-----Musselman rear brake hub and Murray Ohio type front hub...
Nice used pair in decent used shape! Decent original plating...
Ideal for Dayton, Mercury, Colson, Postwar build up! AS found...
40.00 plus add the postage...

bobcycles@aol.com
or PM here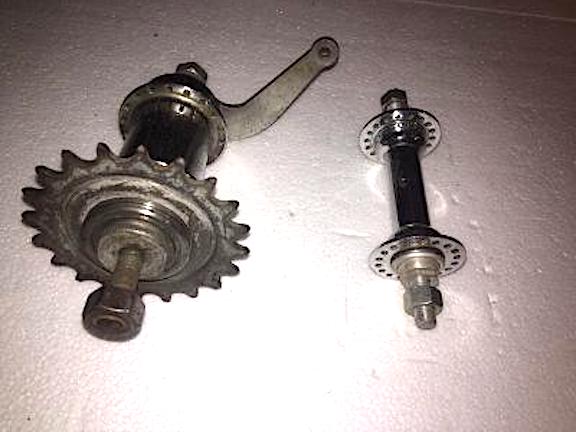 Last edited: