Riding a '38 Autocycle Deluxe
Some nice stuff for the Muscle bikes offered up with the best offer option if they don't move quick as priced.




GONE TO EBAY-----
1--- Nice original 16" Schwinn S-2 rim. Exceptional chrome, almost like new, one very
small ding shown, No stamp. Most likely Run-about or Midget Stingray. Hard to find
little hoop!
150.00 OBO shipped

bobcycles@aol.com
or PM here..





2--- Looks to be an NOS 16" Schwinn S7 front wheel, has the factory tag on board.
No stamp on this one, same as the Krate front wheel, chrome is excellent, some minor
age showing but pretty much passes for new or like new.
150.00 OBO
3--- A couple of so so Stingray wheels. Rear S-2 has some curb dings ... nothing to major
but they are noticeable for sure... empty hub shell no guts...28 hole no Schwinn S2 stamp.
Decent original S7 Stingray front wheel, not center stamped...should clean up pretty nice!
150.00 shipped OBO




4----Beautiful original USA 16" Schwinn Superior front tire for the krate bikes.
Nice enough for the nicest Krate or runabout. Not a repop ...VERY good original.
150.00 shipped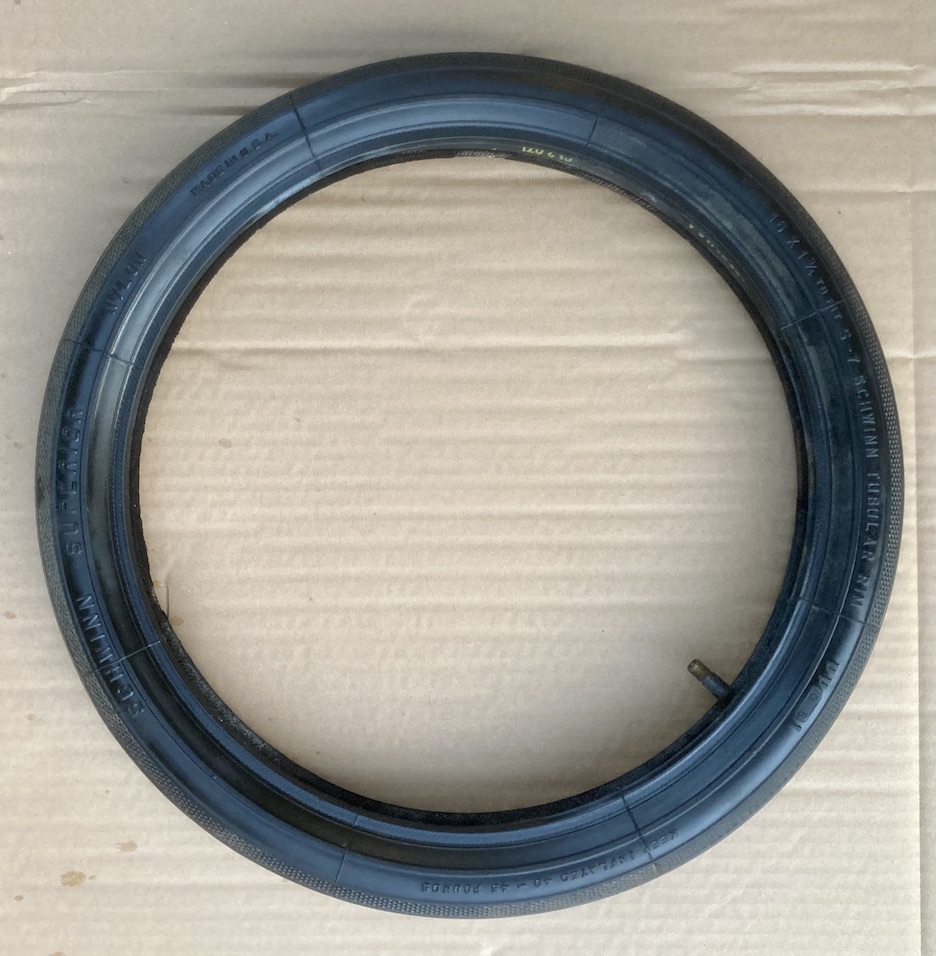 5----NOS reproduction white wall Superior style Fits Tubular Schwinn S-7 rim.
Not sure when these were made, but look to be decent quality.
No idea on value...
100 shipped OBO...




6----Excellent original West Wind 20" white wall tire.. Very very nice. Almost
looks NOS. USA tire, not a repro. Date code I believe is early 1970s. 72'?
150.00 shipped


Last edited: