Riding a '38 Autocycle Deluxe
Various parts lots for grabs.... Prices do not include postage/shipping unless otherwise stated

#1 Cranks lot! Various shown including top left straight arm 1920s Motobike era, unsure mfg
also included 2 Schwinn prewar ladies Dog legged cranks, one slightly bent, and a very decent 1964 Dated
chrome Schwinn crank...possibly Stingray? not sure.
All you see in the pix....60.00 OBO plus shipping

bobcycles@aol.com
or PM here
Hubs sold!!!
#2 Mega Load of front hubs... Some Schwinn script 28 and 36 hole, some ND Departure mostly 28 hole,
plus 2 very nice original "Hour Glass" Bendix, a variety Westfield /Columbia in varying conditions, some
Unidentified? plus a sealed bag of aftermarket axle kits. Lots here!
50.00 for all plus add postage


Springer parts sold!
#3 Huge lot of as-is Springer parts as shown, lots of patina, springs and yolks, a few various Truss fork
collars, a truss rod set for Murray Ohio I believe 50's bikes, 4 Useable 26" springer struts (one has some
scrapes and scars, the others are fine, just surface rust) 3 various rough as found prewar Schwinn truss
rods. Everything shown
75.00 plus the ride.


Shifter Parts SOLD!
#4 Miscellaneous Shifter and brake handles. There is a cog for a New Departure with the planetary
gears on board but a broken axle...Good parts! Nice later style Bendix trigger shifter, New Departure
TRIPLE SPEED shifter (fair cond), 1 Bendix 2 speed shifter, 2 early Lightweight brake handles with patina.
One Crossbrace for the handlebars (no brackets, Columbia 40s-50s) 2 rear rack legs possibly Columbia
with holes for Tail light routing wire.
All you see in the pix 75.00 plus the ride





#5 Mixed lot of Speedo stuff and MILLER Generators plus one early unknown generators ( just checked ebay
on the miller generators...some go nuts!!) Some speedos The Stewart Warner Crown looks good and works...body needs clean up,
black speedo is in good shape, the other bucket and guts for parts. Some cables, most missing inner drive cables and need work,
1 is hard to find prewar thick diameter housing, Also some ball light brackets assorted styles
All for 100.00 OBO plus the ride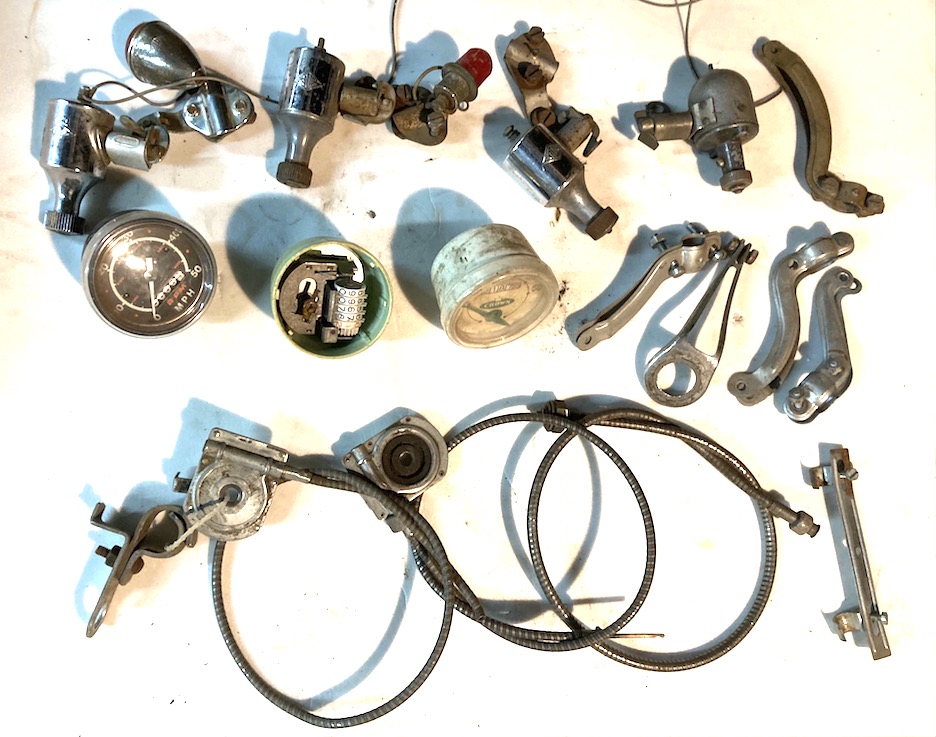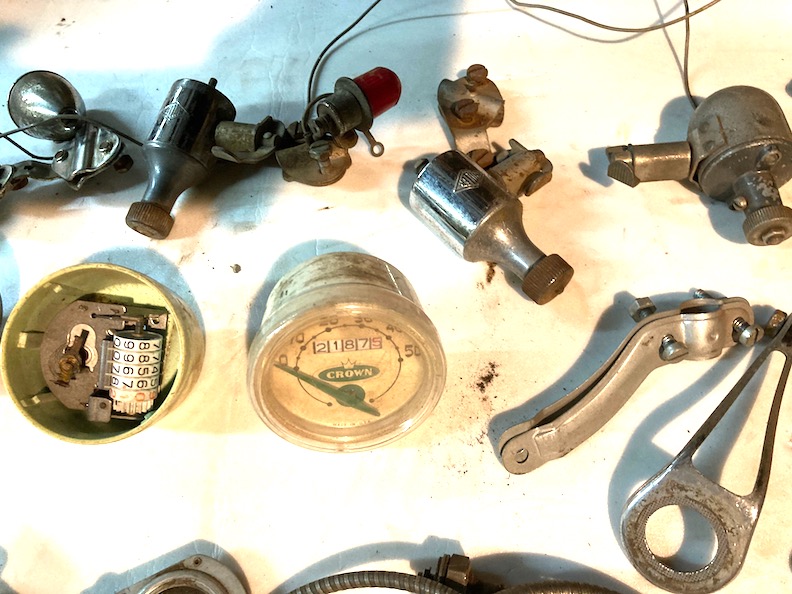 NOT SURE why after numerous attempts this out of sequence pic won't delete? Hello?????
Last edited: