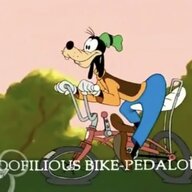 I'm the Wiz, and nobody beats me!
Aug 13, 2008
10,945
Planet Vulcan
Cleaning out my dad's basement, I found this project of mine that I never got around to. It's an 80's Porsche 959 R/C car, sans controller. It has a pivoting rear axle, fully functional steering, headlights, taillights, AND turn signals! It's a very cool car, and I don't know the frequency, but I partially tested it with some controllers that were close. It appears to work, if you can find an original controller. A hard to find toy, I have yet to see another.
Sadly, a control arm is busted. All the parts are in a baggie.
$5 plus the ride from Tipp City, OH.
Someone would love to have this old toy!
Last edited: