I'm the Wiz, and nobody beats me!
That green '54 Hornet got me thinking a bit, I have a neighbor down the road who's in his mid 90's now, he's got a red Hornet hanging in the back of his garage. I tried to buy it several times but he's saving it for his grandkids.
The bike is red, has no tank, has painted fenders, a sweetheart sprocket, Typhoon cord tires, black grips, black saddle, pull back bars with a forged stem, and a huge chrome casting on the tip of the fender that he said he added. The bike has a massive front basket on it. I remember him showing me how he made custom mounts with leather to protect the chrome when he put it on there. I remember the serial number was an L with almost all 5's and ending in a 1, maybe L555551 or maybe I missed a 5, not sure. I used to deliver newspapers myself as a kid, I had wanted that bike for my own use but he wouldn't sell it then either. Its not moved in at least 45 years that I know of. (It was still hanging there last summer when I stopped to see how he was doing).
His doesn't have the Schwinn rear rack, its got a huge black steel rack with an old wire milk crate attached to it with twisted wire.
It doesn't have a tank, but the paint scheme is like the green one above. Otherwise its on par condition wise with the one above as well.
(He also had a 57 Raleigh Sports that I did manage to get him to sell me about 30 years ago, but that bike wasn't his, it belonged to his father-in-law.).
I did take the Hornet down off its hooks for him years ago, I pumped up the tires and oiled the chain a bit and rode it up and down his driveway but he wouldn't part with it. These days it still hangs on the back wall of his garage, but there's a dead '75 Olds wagon backed up to the wall right below it with four flat tires that hasn't run in 25 years or more. To get the bike down, the car has to move. The car is blocked in by a slew of old furniture, boxes and stuff he said came from his in-laws place when they passed away years ago.

I wonder if the level or exact model determined what stem a bike got? Maybe just low end versions got the cheaper stems or was it just luck of the draw?
For the first few years that the Hornet was produced it had the forged stem and built in stand. The Green one above has the Schwinn Spitfire head badge and that confused many people since the Spitfire model was also being produced. The Spitfire name was coined by Schwinn in 1939 I believe. They produced a low budget model that came with no Quality decal and it did not come with any warranty or with any extra options and only in Red. Schwinn called it a Spitfire and the model designation was Z. This bike was to draw in customers and the salesmen were suppose to upsell to a better model. It's a pretty hard to find bike today but they do show up. The 50's and later Spitfire models were just about as low as you could go and continued being Schwinn's lost leader. So it seems that when the Hornets were somewhat downgraded with the detachable stands and rolled stems they were equipped with the Schwinn Spitfire head badge.
Heres some interesting info on Spitfire.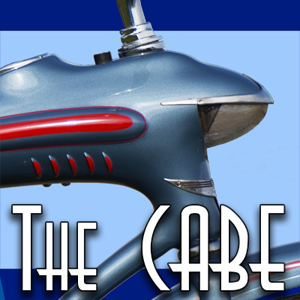 This appears to be 1941ish due to the 6" headtube on the ladies models. I always wondered what the story was with these "non-cataloged" models, and here is all of the info about them straight from the factory. Obviously a "C" style frame, but the unique specs make them a Z. I don't think I have...

thecabe.com