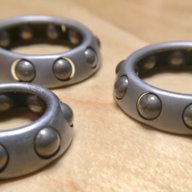 Jan 12, 2019
1,066
50
Arizona
Please help us gather some more info on wartime Schwinn New Worlds (or other lightweights). We know many of you have these unique bikes and they all have an interesting story to tell. We are already starting to get an idea of what serial number New Worlds have the transition from brazing to electro forming construction and can see the progression from few blackout parts to many. There were many (not 100s of thousands but many) non-military "Defense" or "Victory" New Worlds built during the war. Here's a look at what we have started to see:
With the help of
@GTs58
and
@SirMike1983
and a few other New World enthusiasts, we've been able to thread a narrative about the progression of these bikes from braced big handle bar tourists with rear forks, to the inexpensive rear dropout lightweight EF performers they became. This is how we got here:
3-speeder's Wartime Schwinn New World
But there are MANY more of these wartime lightweights out there in your collections. Here's a few examples we think would help add more clues and details. Do you know anything about these bikes? Do you have a serial number or pictures or more info you can share to help add to our understanding?
@bikepaulie
What's the serial number on your 1939??
@bobcycles
You see all kinds of stuff and can probably add tons of info. In particular, what happened to this bike? This is exactly the kind of bike we want to know more about.
War Bird
@manuelvilla
You have/had a beautiful step through New World that holds clues I'm sure.
My New World
@DonChristie
You have/had this very original 1940 looking bike. What's the serial number?
New World
@orangewill
Mentioned this K serial bike of his friends. Any one know more about it?
i.d. Help
@Jim Barnard
had this bike with a 3-piece crank and brazed frame with tons of blackout parts. What's the story? Too unique!
Wartime Blacked Out
@Eric
had/has this blackout ladies beauty. Any way to get more info on this one?
War Era Schwinn
@GenuineRides
had this frame for sale that looks interesting. Did it get used in a build?
Help w Year
@bikiba
I know you love these bikes. Got any pics/info you can share to help add to the story. You have the blackout eyes.
@jpromo
In one thread you mention owning 3 of these frames (Serial F, G, and I). Please tell us more...
I'm looking forward to what kind of stuff crawls out of the woodwork on this. Who has stuff we've never seen before? Time to shine a light on that funny wartime lightweight you've been secretly loving... Let's fill the table out all the way to
@SirMike1983
's gorgeous 1947 multi-gear New World!
YOU GOT THEM - LET'S SEE THEM!!
Last edited: