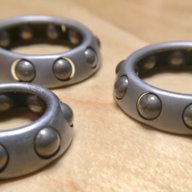 Jan 12, 2019
1,071
50
Arizona
Hi Jim,
Great step thru New World!
@spoker
and I have been wondering who was going to buy it. I have already added it to my chart but now I can put
@Jim sciano
as the owner.
Thank you for posting the pics of it.
I think you are right with 1940. It has great paint and decals and chrome!!! The seat is still there too. Really great bike to restore. My 1941 is very similar and rides sweet.
The grips were probably part number 822 Black Finger Grips (see
1940 parts catalog
below "photo" #422)
Large Flange Hubs:
I would love to see what the original reflector on the rear mudguard looks like. ??
Thanks again for posting it here. I look forward to seeing what you do with it.
Last edited: