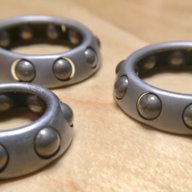 Wore out three sets of tires already!
Jan 12, 2019
856
49
Arizona
@GTs58
dug up a thread with this 1942 New World. Neat black out hubs. The rear bar mudguard stays look like replacements for broken original "wire" stays or maybe just another example of mix-master wartime building. ?? I'm guessing replacements by how they're "attached" to the rear axle...
I74208 Serial Number is right in the 1942 mix.