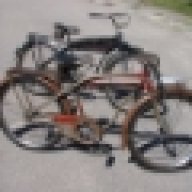 Wore out three sets of tires already!
Nov 22, 2011
923
Hingham, United States
Hello, A lot of collectors here in Massachusetts & the surrounding states attended the Dudley bike show thanks to bike Mikes Generosity over the years . Mike has relocated & a new show is being worked on.Either from Mikes new location or nearby his new location. ) But very likely wont take place until spring at this point .( I could be wrong ) .
We have lost the Museum of transportation show .
We have lost the Monson bike show.
No Howe's Caverns any more .( The concept of a family destination for a show was a great idea I believe.)
And others over past years.
I'm glad there is Fitchburg Rides & a couple of other shows that are still around.
The reason for this thread is so that people that attend these shows have any suggestions going forward to help create a new vintage bike show venue to post ideas locations ect.
I'd consider trying to figure out a show venue local to me but I'm so far East. I feel my location although beautiful to host a Summer ride/ Pub crawl would not work for a good central location for a lot of collectors to have a bike show.
This is meant to be a positive post to help with the lack of shows we suddenly have in Mass.
Last edited: