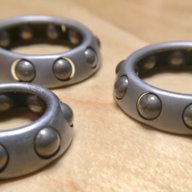 Wore out three sets of tires already!
Jan 12, 2019
749
49
Arizona
@piercer_99
It's getting almost full! Lit up my canal ride back from Kyrene.
Check out the reflection of the night hawks flying just above the water catching bugs in the pic below. You can also just barely see a guy fishing, standing under the power lines pole.
Almost full moon:
41 New World
POST 12,000!
Last edited: