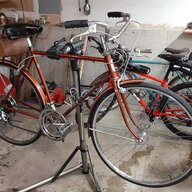 Jul 13, 2019
30
62
Bolingbrook, IL
@Chuck S

, welcome to the gang. At least you are RIDIN' NOT HiDIN'. . Over 600 miles a year is a lot of ground you've covered.

Oh dont think ...I'll just get ONE classic or Antique bike. Plus the more bicycles you have the more different muscle groups you workout. At least thats what I tell myself...

[/QUOTSven Sven I am with you on that. That is why I have three bikes now. Also 18 bows, as in archery, oldest one from 1952. Yet another obsession, I mean hobby. If I get an antique bike I will likely dump the cheap aluminum cruiser. My garage is only so big.