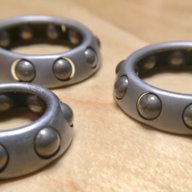 Wore out three sets of tires already!
Jan 12, 2019
802
49
Arizona
Made it out to Kyrene between monsoon storms on the canal tonight. It was fun getting pelted with giant raindrops under the purple monsoon night sky. I kept thinking I was going to get drenched, but I made it back with just damp clothes.
They were pumping the rain water from storms earlier today into the canal and it was shooting up into the air like a small geyser. Night phone pics are always so bizarre with the lack of colors.