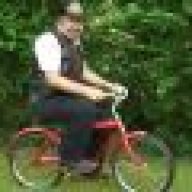 Finally riding a big boys bike
May 16, 2013
494
36
51
Bear / Newark, Delaware
Hello All!
I had the day off today so I was hoping parts I ordered recently would have arrived so I could tinker with a few of my projects - but no luck.
After spending an hour reading updated posts here I got an idea to start a new thread hoping to get some interesting reading from your responses here???!!!
SO - What Was YOUR First 2-Wheel Bike???
(And do you still have it or one like it???)
MY first 2-wheeler was a Lowly & Humble AMF RoadMaster Jr!
The bottom bracket bearings got messed up so my Dad got rid of the bike to a friend of his from work (Very Much against my will!!!)...
... but I got Very Lucky and was able to get the bike back some years after Dad passed away!
This originally came with the Colored Hard-Plastic Seat...
... but the dealer we bought the bike from (at the New Castle County Farmer's Market) sold us the Troxel seat to replace it.
(That plastic seat HURT a young boy - even at THAT age!!!)
All the kids made fun of my bike in our development because of it being a "girl or boy" convertible bike...
... but I thought it was a Great Looking bike with the tank in the up position and I was Very Proud To Have It!!!
I've got a ton of memories with that bike and that's why I keep it in a corner of the living room even today at 45 years old!!!
(... and I STILL get a smile every time I glance at it when I walk by!!!)
I'll put a post in "Wanted To Buy"...
... but I'm still hoping to find a set of Bottom Bracket Bearings and the Rear Fender Reflector for this if anybody has them???
Please feel free to email me direct at
OldToyTrains@aol.com
with photos & price if you have them???
Looking forward to hearing about YOUR First Bike and maybe seeing pics if you can show one!!!
Thanks!
Blessings!
Will,