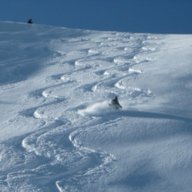 Feb 2, 2018
1,532
63
Utah - United States
Sven, keep practicing!.
@bikemonkey
has it pretty summed up on page one. Your "shift" or "hop" in your existing rim may be from previous rim damage...Heavier gage steel rims, once bent or dented, may not true up as the spokes may not be able to reach a high enough tension strength to overcome the dent or bend. Everyone seems to have their own special way to build a wheel as do I, especially when lacing a new setup. As with everything else, it takes a few wheels to get it down pat and even then you will make occasional building mistakes depending on the spoke count and cross pattern. Do not forget that the rim moves left or right when "dishing" the rim and
not the hub
as you mentioned. The hub and it's axle
shall be
squarely(90degrees "square") secured in the dropouts or rear fork axle slots if correctly installed and the dish in the wheel determined after that....
I have a story to tell about a recent dishing problem that eluded me until a lightbulb went off in my head. My 21st century hawthorne that I ride has a sweet wheelset front and back that I built in a truing stand with no dish on either wheel. The wheels/tires are fat 26-ers instead of skinny 28-ers that the frame was made for, so the big 26" rear tire clears the stays by only 1/8" on each side, pretty tight.. The bike has never liked to be ridden hands free and always pulled to one side. I have been messing with it for awhile 1st ensuring the fork was clean but it still pulled one direction. In order to perfectly center the tire in the chain and seat stays, I was slightly adjusting the axle forward or back on one side in the drops to center the tire. Problem was that this pointed the rear wheel left or right and not straight....the Snyder Hawthorne frame and its' dropouts are slightly offest from the BB so the wheel needed to be dished over slightly when mounted in the drops! Rookie mistake as the wheel was originally built with no dish. What fooled me was that prewar rear-facing dropouts or "forks" allows a wheel to be mounted so a wheel looks centered between the stays, but in actuality the axle is sitting in the drops not square to the BB shell, which causes the bike to pull one way or another...dumb me. A simple dish job of the wheel when on the frame solved my pulling problem straight away...