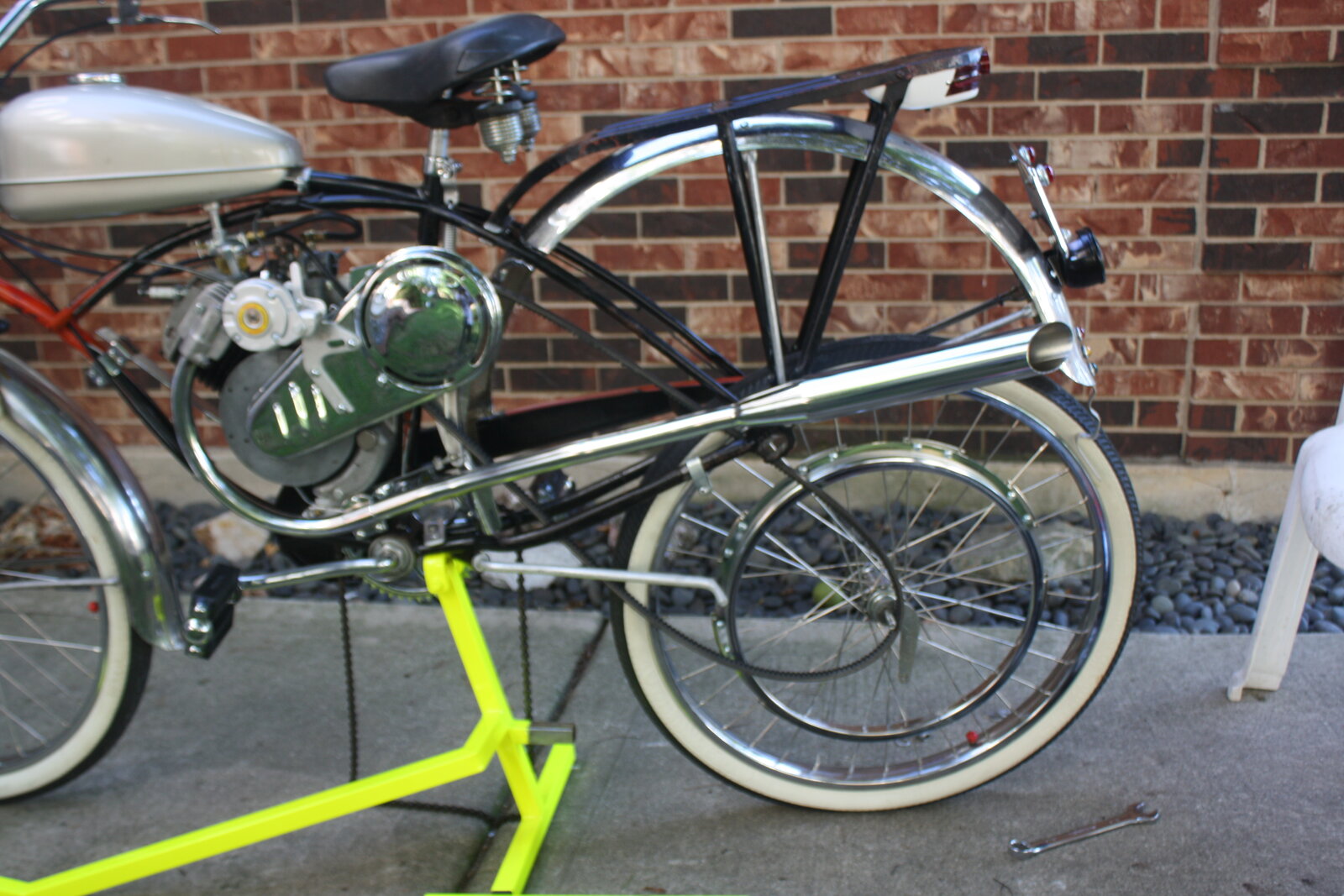 I know that the gaudy color is a turn-off for some sensitive users but it was painted to show where the hoist ends and the bike begins. The later, better designed stands are powder-coated black and bolted together for cheaper shipping and easier storage. Safety attachment devices have now been included and the price lowered. A Whizzer is so heavy that using an elevated bike stand is nearly impossible to use when changing a tire, alone. Bike owners are also interested because of their ease of use. I would like to take a survey on how much this item would be worth to you, taking into consideration that few will be made and the old heavy bikes will always need attention.
I will post an improved version later (for comparison). Other types of bikes can be lifted if they have two tubes behind the crank. The device is being made and shipped by the legendary inventor, Joe Cargola so you know that they are uniform and precise. I hope to load a video of the lifting and use of this invention on the CABE soon. Please note that the front wheel can be raised also. It can also be used as a safe stand on rough, wet swap-meet terrain. After five CABERS count the welds, calculate the cost of the steel and guessed the price, I will state it here and move this to the retail section. You will be shocked at the opportunity for resale profit. The price is set and no more will ever be built by copy-cats because of the amount of work and skill needed. A supply of them is ready for shipping.
I have been testing Joe 's designs and several of the prototypes have been sold and shipped to California which triggered the bolted-pieces design. Understandably, building these has been the nightmare that Al Blum predicted it would be. I silently thank Joe each time I use mine. My loyal helper for the last 46 years, is now weaker and likes the idea of being NO LONGER NEEDED for this task.
Last edited: