Hello All-
I'm a new member embarking on my first project. I've posted a little more about myself and how I got here in the Antique Pre 1933 section under the post "New Member...Old Bike". I've had this project waiting in the wings for a while and once I stumbled upon The CABE I was inspired! Some really, really impressive work out there folks.
So here's what I'm working with:
1916 Iver Truss Frame Roadster in as found condition
First step was to get out the compressor and blow off decades worth of dust... Serious dust!
Then I did some Lexol on the seat and did an initial WD-40 and steel wool wipe down
Here are some before and afters: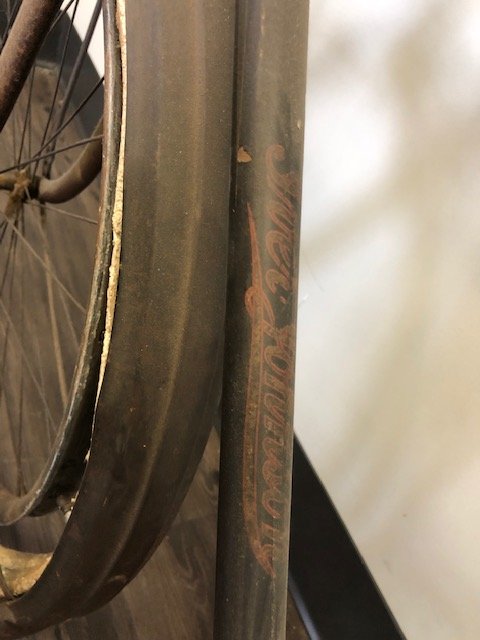 Then I hit all the moving bits, bolts and nuts with Blaster and will do this a time or two again before I start wrenching on anything.... Any pointers on how to loosen rusted parts(what to or not to do) before I start greatly appreciated.
I'm surprised at how good the paint looks after just a few mins of light scrubbing. My next steps will be to start breaking the bike down so I can attack the rust and get everything re-lubed and moving again. I plan on taking off the non original parts which seem to be basket, chain guard and fenders... fenders are pretty beat up anyway. Anyone know anything about the chain guard?
I also know I will be needing some parts as I go along. So far I know I need a left crank arm (not sure if its a 6.5" or a 7" need to measure) Also missing a left pedal so will be looking for one or a pair.
Still undecided on the wheels whether I'm going to restore for show, try to restore to ride or buy a replacement set and leave originals as is... but I guess thats a post for another time.
Thanks in advance for any thoughts, tips or parts. More to come!