Riding a '38 Autocycle Deluxe
Here are some various lots of mostly antique Cycling awards fobs etc some nearly 100 years old.

Open to reasonable offers on the entire collection.

#1 2 medals, 1 tie pin. left competitors award state championship 1940 ABL of America, Middle
deeply embossed racing medal no markings make in Italy, small silver cycling medal no markings
35.00 for all shipped!






bobcycles@aol.com
or PM here

#2 Left Stamped embossed Racing FOB, Middle nice possibly gold plate? Bicycle institute of America award
no date looks 30s-40sish, Right embossed with fine detail unmarked copper medallion.
60.00 all shipped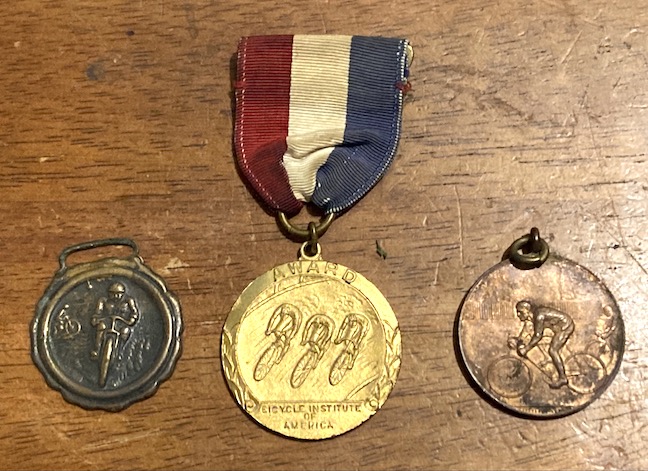 #3 Left Nice and colorful cloissone Clifton Cycling club 1934 award 2nd place T Jackon 2H, 24M 29s (time)
middle 1931 Eastern Counties cloissone medal 12 Hour Time Trials E J Grimes, Right Antique Motorcycle
decorative Racing medallion detailed embossing dated 1927.
50.00 all shipped! Nice lot










#4 Left Possibly early Motorcycle FOB 20s or 30s era guessing, Center Beautiful ACME Wheelmen Club Championship
1925 2nd place with Blue Sapphire gemstone ( a guess on the stone, appears to be ) deeply embossed wow! Right
Deeply embossed penny size racing medal, no info looks prewar.
50.00 on all shipped!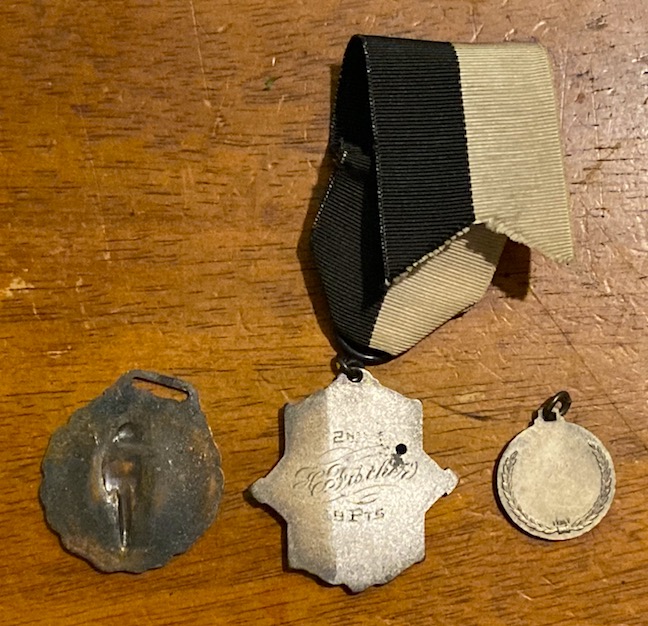 #5 Left Embossed racing FOB unmarked, Center US Cycling Federation District Championship medal, no date,
Right duplicate racing FOB
40.00 on all shipped!






#6 Left Nice Penny sized embossed medal no markings, Center 1927 One Mile Senior Champion, John Stewart, deeply
embossed very cool! right Embossed medal 1965 dated.
45.00 on all shipped!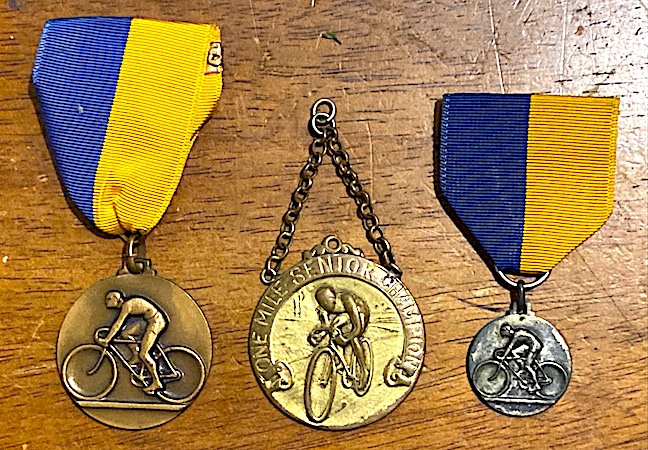 #7 Top Nice Cleveland enamled pin very small, pin missing, Middle Atherton hubs FOB, bottom
Schwinn 1940 first year straight bar tank Autocycle Schwinn pin NOS.
40.oo on all shipped!







#8 Variety of OLYMPICS pins and a Campagnolo, 1000 bike show, Tokyo 1964 etc. See pix for other details
35.00 on all shipped






bobcycles@aol.com
or PM here
Last edited: