I first purchased this 930 sometime prior to the millennium. At the time I was primarily ridding a carbon fiber full suspension GT STS. I ended up crashing the GT into a tree, and cracking the carbon fiber frame.
Not Mine, But pretty close!
I purchased the Trek as a backup to a Hard-Tail Klein I also owned at the time, but the Klein always felt just a tad to small for me, It was a medium size frame that measured 18", and with the type of riding I was doing, it had a tenancy to toss me over the handle bars. The newer Trek was slightly larger, and was a 19" frame.
Shortly after purchasing it, I moved all my best components off both the GT, and the Klein over to this Trek, (I liked it that much). The Klein was sold soon after the 930's purchase, (This Trek 930, is what first sold me on ride quality's of a nicer steel frame). The frame gave just enough to make for a comfortable ride, yet felt precise out on the trail. The Steel framed 930 was a completely different experience from both the stiffer framed Klein (That sent every bump in the trail up through the bike), and the GT that rode really smooth but always felt a little sloppy out on rougher terrain. I found that this steel framed Trek was exactly what I was looking for. It was a nice "unexpected" compromise between the two extremes, and one I thoroughly enjoyed.
I rode this Trek for many years, and have rebuilt its components a few times. I think the only original part left is the frame. I have more miles on this bike than any other I have ever owned.
To this day. it might be my favorite mountain bike for the type of riding I did the most. Although its not the most expensive frame I have owned, Its ride pretty much beats all the others I have had.
I have always loved riding this bike, it fits me like a glove, and I almost feel like it was made for someone of my exact size. (Over the years, a few of it's nicer components have been moved over to other mountain bikes I have owned). It currently has a Vintage XT drive-train, and still rides as nice as ever. The crank I once had on this bike, is currently on my Specialized FSR that is also posted here on this forum. The Specialized was my next bike after this Trek 930.
Note: The Klein, is one bike I wish I did not sell. Although I preferred the 930 over the Klein for the type of riding I was doing. I still consider the Klein a special bike, and it's one I'd like to replace back into my inventory someday (Just with one of a larger size).
I would love to find one of these someday. (nicer than the one I owned, but If I'm ever able to replace it, the Adroit is the one I'm after).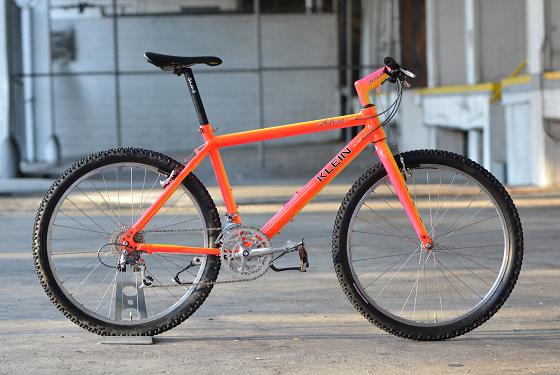 Last edited: