Wore out three sets of tires already!
Too many bikes and it's like Sophie's choice over here.
Up for consideration is a pretty cool prewar Schwinn with its roots in Chicago and Southern CA. This particular bike has quite a story, provided here.
I grew up in Orange County, CA – and in the summer of 1978 I turned 14 and spent the summers with my best friend who had moved full time to Newport Beach. It was the summer that both my friend and I started building and riding vintage beach cruisers after graduating from a 70's Stingray. We went 3-4 days a week for a long time to a little place some of you OC locals might remember called The Pedal Pusher. Owner/operator Gertrude Vorgang was a joy to be around, a wealth of knowledge and always found time to talk bicycles even when she was busy, and she was always busy. Half of her business was beach cruiser rentals and the other half was for buying and selling vintage bicycles. She had vintage parts, decals, literature and of course vintage bicycles for sale. The '80's were bread and butter days for Mike Wolfe of American Pickers, who I am told routinely drove truck loads of bikes from the mid-west to her shop. Hey Mike!
Her influence on the vintage bicycle market was immense; while on a family vacation in Montana in 1979, I happened upon a stunning, original 1936 Schwinn Excelsior hanging in the front window of a little bicycle shop in Bozeman, which then was a town of about 30,000. I asked the owner about the bike and he said it came out of a barn locally – and that in Newport Beach, CA this bike would bring about $1,000. I knew he was talking about Gertrude and the Pedal Pusher.
In the summer of 1980 I saw this bicycle being placed in the window of The Pedal Pusher along-side other vintage rides for sale. She had a double-decker bike display rack and I walked in as they were putting this one on top rack, front and center. The price tag said $700. I was making $135/week pumping gas and could not afford this one; a restored 1933 Schwinn B10E. I talked up the virtues of the bike to another friend who lived next door, who felt compelled to buy the bike. Mike Vorgang, Gertrude's son helped with the sale just days before the July 4th weekend, 1980.
My friend owned the bike for 28 years, and he called me in 2008 asking me for advice on how much to ask for it if he were to sell it. I gave him my best estimate and a day or two later I called him up and said I'll be his buyer. I wasn't going to let this one get away twice. I am friends with one of Gertrude's early shop employees from the late 70's-80's, and later asked him what he knew about the bike. He was able to share the following:
Tank and fenders were NOS right out of Chicago Cycle Supply in 1970's.
Fenders are choice, though one small dent at the top of the front fender, and some minor paint degradation at the very front tip of the front fender. These are motorbike fenders with the flat fender braces but the fluted stainless fenders are the proper fenders for the B10E.
This bike has 26" drop center wheels with New Departure hubs and balloon tires, so the rear fender has spacers at the frame mounts. The rear New Departure hub was rebuilt in 2020.
Bike was meticulously restored by John Weider in 1980 in black enamel (looks like lacquer) with red and cream pins. The paint shows very well and is a testament to the quality of the restoration. Some say his bikes were over-restored and I will say they for sure have a recognizable restoration style. Many of the Pedal Pusher bikes, especially the klunkers they built were "electrostatic" paint jobs (the name at the time for powder coating), but this one was painted conventionally. There are a couple of nicks here and there, and I have tried to show them in the photos below. No touch-ups.
Post '36 drop stand was chromed and does not quite reach as good as it should but it is how it came.
The Pedal Pusher built and sold a few of these B10E's from what I could learn, as NOS parts were just a phone call away at Chicago Cycle Supply – being only 40+ years old in the 1970's.
The leather on the seat is beefy, there is a slight area of discoloration in the leather, not a scuff. Could be remedied possibly with some shoe polish, have not tried. I believe it is a John Bailey seat, if I have his name right.
Nickel-plated Lucky 7 seat post.
Interesting handle bars have about a 5 1/2" rise which is higher than most I've seen, very comfortable to ride with these bars.
Black wall Lightning Darts have been on there since 1980, some tread wear but still supple and no sidewall cracking.
Reproduction T10 pedals.
All parts and paint are original to the build, except the headlight and the taillight, which are not included in the sale.
This bike is as nice to ride as it is to look at.
I hate to sell it but I am in the middle of building three more and I am running out of room.
This bike has been stored indoors since 1980, and been in my living room for the last 12.
$2,150.00 cash or PayPal Friends and Family -
mike@rainbowtoned.com
Will drop the price if sold without the seat.
I will personally deliver this bike to your door within 50 miles, or you are welcome to pick it up in Orange County, CA. I will not ship but if you want to arrange for shipping (I would recommend shipping in one piece) I will happily drop it off to your shipper and help pack it up. If you are local, come by and take it for a ride...
Mike Shickler, Huntington Beach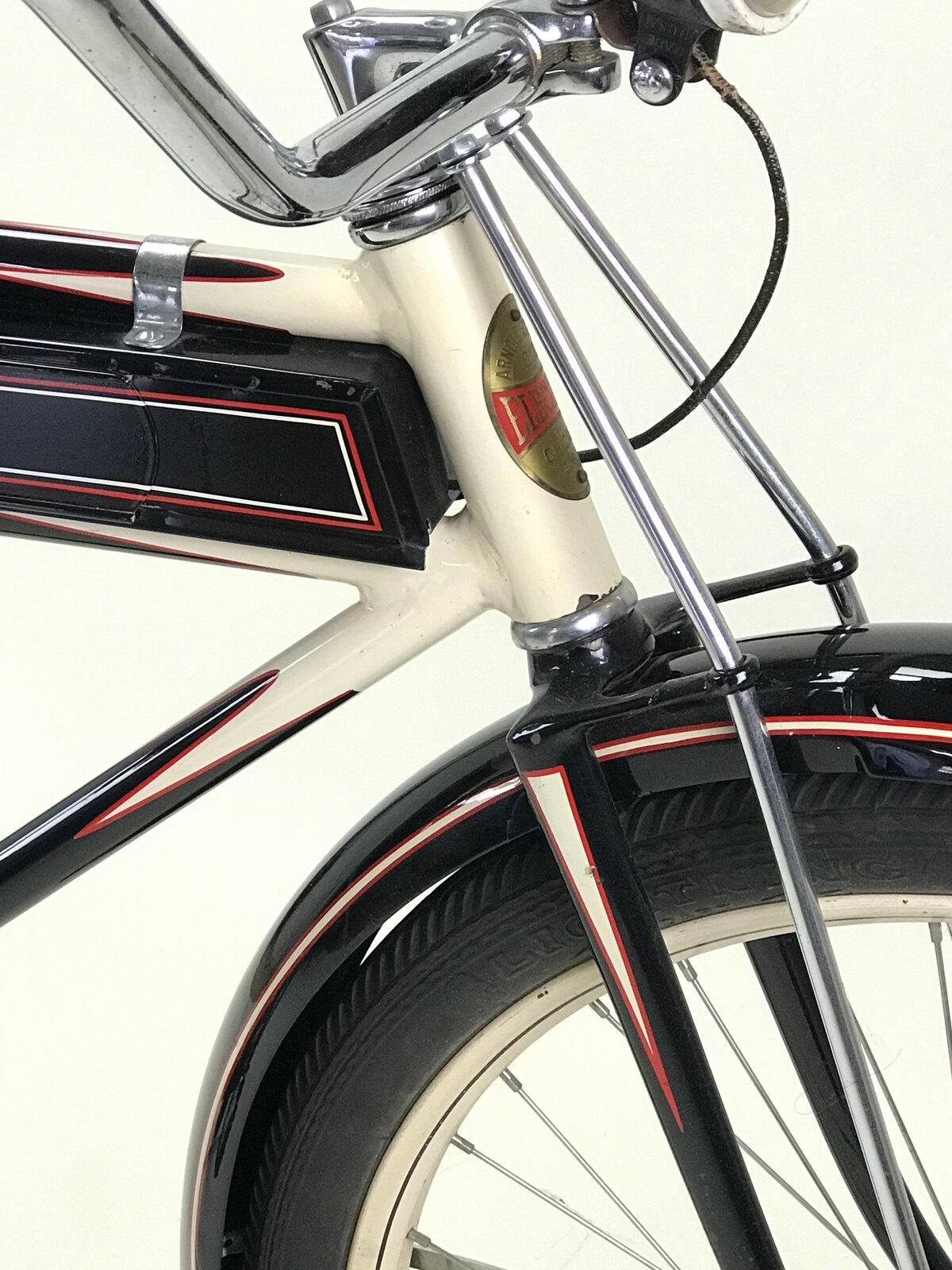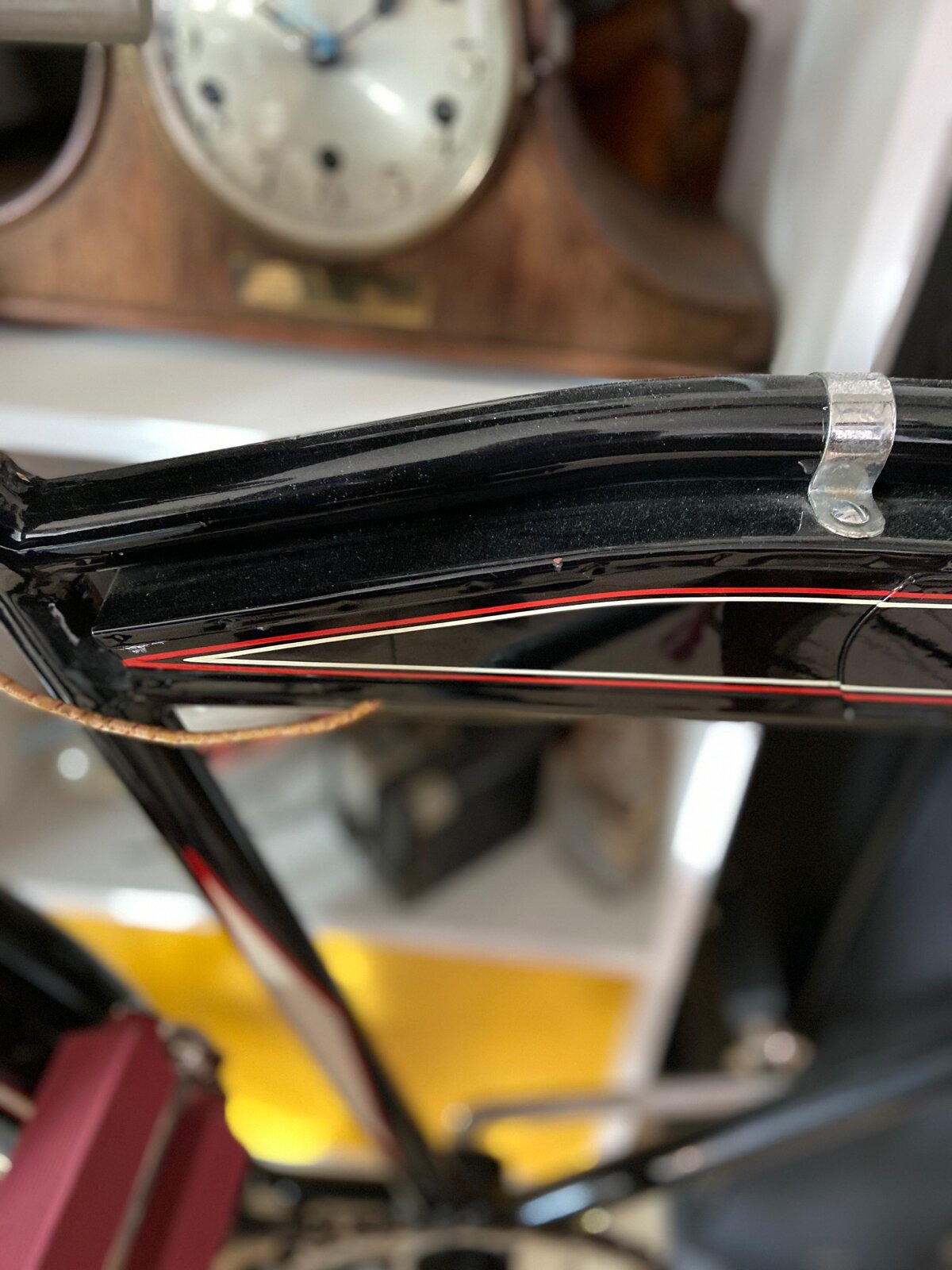 Last edited: