Riding a '38 Autocycle Deluxe
Not sure who won this one, just happened. A buddy texted me the link and it was live just a 1/2 hour ago, by the time
I clicked on it, SOLD! I remember back in 1999 reading Leons old newsletters and calling old ads that were 15 or 20 years old or so
back then, the guy had bike parts and NOS stuff listed in the classified. I actually made contact with him and a buddy of
mine here locally and I flew out to VA. family trip for him mixed with a picking trip. We went to the owner of that whizzers
house at the time, not knowing a 39' whizzer would be there, but I remember crawling in the house attic and recovering
good antique parts...laying them out on the dining table and buying them.. He eventually took us out to a small shed size
outbuilding and there was the Whizzer. Did not want to sell it at the time...he was in his 80's back then. I left him my info
hoping 'one day'. Oddly enough...I ran into his info and address etc last year and mailed a letter to the address inquiring
about the whizzer, no reply, most likely passed on. Not sure how the Ebay seller acquired it...maybe an estate sale at some point.
But WOW what a killer early example.. One that 'got away' ...
Anyone here get lucky on this auction?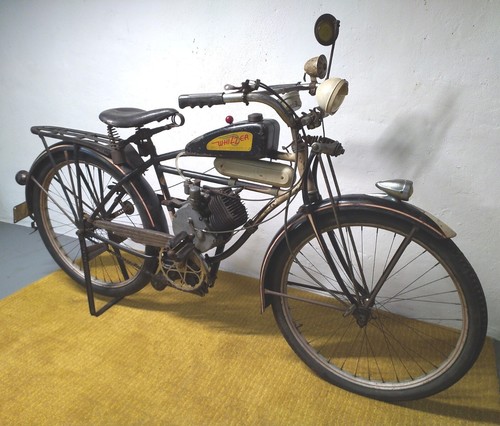 Find many great new & used options and get the best deals for RARE Original 1939 WHIZZER MODEL D! Schwinn Motorbike SURVIVOR Prewar Motorcycle at the best online prices at eBay! Free shipping for many products!