I've been actively working on the rollfast light weight I bought a few months back for the last week.
Original thread here:
http://thecabe.com/vbulletin/showth...k-style-racer-200-shipped&p=367284#post367284
I just noticed, the fork is bent
... my luck and rollfast forks is no bueno!
you can see in the original pic that the fork is fine.
the day i got it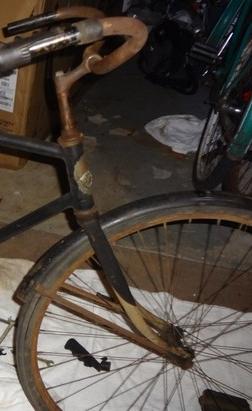 Closeup where you see the bearings!
Ugh... like looking at a broken leg
So now i am at work, I am wondering, if it was really bent? or maybe it is just loose and needs to be tightened? My gut feel from what i remember is that it needs to be straightened. if so, we have an old time bike shop 100+ years that i will take it to along with big red rollfast.
You can see the nice shiny stem below compared to the other pics. I worked on it for a good 30mins last night and is even better looking.
one issue is that the stem has a cracky looking chip on the top.It is completely flat and shallow. I tried to "break" the stem using the handle bars and twisting it and it didnt move so i think it will be fine if i use it for now for light stearing. [ no mountain biking for this rollfast : ] But if anyone has a stem that they dont need anymore i wuold be interested or i will just check out the wares in trexlertown.
On a positive note I was able to find
1. tires/tubes that fit
2. the fenders, chainguard, stem and handlebars have been cleaning up nicely.
3. no other major defects
Almost done with the initial rust removal, but will need to get serious on the tougher parts. Given its current state i think I need about 15-20 more man hours on it.