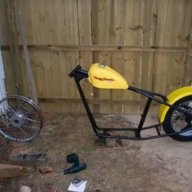 Jul 3, 2015
13
South Georgia USA
How do members feel about originality. Are most ppl on here in the "purist" category or is everyone just an enthusiast? Personally, I think that keeping old bicycles (cars, trucks, motorcycles, etc) original is a way of preserving history. As important as that is, I'm NOT the guy to spend countless hours searching the world for that rare seat/handlebars/fender that is the exact one that was original. To that end, I prefer to NOT have anything original to begin with. Then I can feel free to change stuff to suit what I like or get whatever part fits and use it instead of trying to find a part with the right date stamp or whatever. I love to change or customize what I own, to my personal taste. My Spaceliner is all original and will stay that way as long as I have it. I would have been just as happy to have acquired it as a partial bike and then put it together with parts I like.
I built this 1980s Schwinn Typhoon for my son to ride with his wife and daughters. To me it's a Rat
Bike
. I started with little more than a bare frame. I bought a new men's Huffy beach cruiser
from Walmart
to get wheels in the color I wanted. They're not top quality but will do everything they need to do. It had the original seat and my son said it was too uncomfortable so i put a new, softer and larger Schwinn seat on it. The black seat looks better on it than the original blue and white seat did. He likes dragbars so it got them instead of high rise bars - he lost out on our Harley project, it's got ape hangers instead of the drag bars he wanted. LOL I like drags and apes but need the taller bars so I can ride with my back straight - not supposed to ride at all, as per the doctors! Anyway, I was curious how everyone felt about originality vs custom/modified. Hopefully I won't have the "Schwinn Owners Club" outside my house throwing rocks and protesting because I didn't put the bike back original LOL I like it all and usually agree with most everyone's decisions on their own stuff!