FINAL REDUCTION $825
I will be posting a separate thread in the next day or two that lists items also included for the total package price of $825
PRICE LOWERED AGAIN NOW $900
NEW PRICE---------------$950
PLUS MORE PICS OF STUFF INCLUDED .......SEE MY LAST POST
My Parkinsons is getting worse and it's becoming very difficult to ride or work on bikes, so selling almost all my bike parts. No rare or semi-precious parts you can sell and buy a new house, but plenty of good stuff you can use or sell for profit.
PLEASE NOTE I AM NOT LOOKING TO SELL INDIVIDUAL ITEMS AT THIS TIME....WRAPPING AND PACKING IS EXTREMELY DIFFICULT FOR ME DUE TO PARKINSONS.
For years I enjoyed "fixing up" all types of bikes. I haunted all the bike shows, flea market, and yard sale for anything bike related and now it's all here in one place for much less than I paid.
I want to sell it all as a group as and obviously would need to be picked up. Items are located near York, PA which is just a short drive from Philadelphia, Baltimore, Lancaster and Trexlertown.
Unfortunately, many, many items are packed in boxes, too heavy me to move and keyboarding has become difficult for me to list everything here, but I'll try to give you some idea. I can give you a better description by phone, so if interested pm me with your number and I will call you.
Please do not post questions on this thread.
Part 1 ALSO SEE MY OTHER POSTS BELOW FOR ADDITIONAL ITEMS ALSO INCLUDED FOR THE PRICE.
Park PRS 6 repair stand…good condition, Park wheel truing stand….like new (truing stand is ad photo) Assorted Park and other brand wrenches and other tools.
Boxes of new and used older and newer axles and bearings. All types/sizes of fenders; balloon metal, plastic, lightweight….even a new pair of wood fenders, Chain guards including 1 zep type, Forks numerous types in including 3 old balloon tire types, Saddles, some older, some newer. Grips…..many different. Pedals, some older Torrington and others, some new ones for cruisers.
Speedos including 1 Western auto complete, 1 cadet compile, 1 generic, more: Tires: 700's, and balloon type and others new. Lights and horns including Delta stop light, front fender types, generic ball horn lights, all new condition. Plus other assorted used. Truss rods.
Wheels 1 set new alloy 27", 1 or 2 skip tooth, 1 or 2 sets with brand new tires balloon chrome wheels, 1 set of black rim coaster brake wheels new, plus more.
Handle bars and stems, many new or like new for cruisers. Reflectors; some old plus a suitcase full of newer ones. Carriers 1 front; many nice condition rears including a Colson, and newer types.
S
eat posts including 3 lucky sevens plus many other sizes and types. Hubs; Front and rear lightweight, skip tooth, 3 speeds SA, coaster brake. Shifters mostly for lightweights and SA 3 speeds including 3 speed parts and a top tube SA shifter
Bikes Colson step thru, Snyder built Rollfast, 3 speed English Type, Nashbar house brand road bike, more
Books, posters, signs; floor pumps, much more not listed.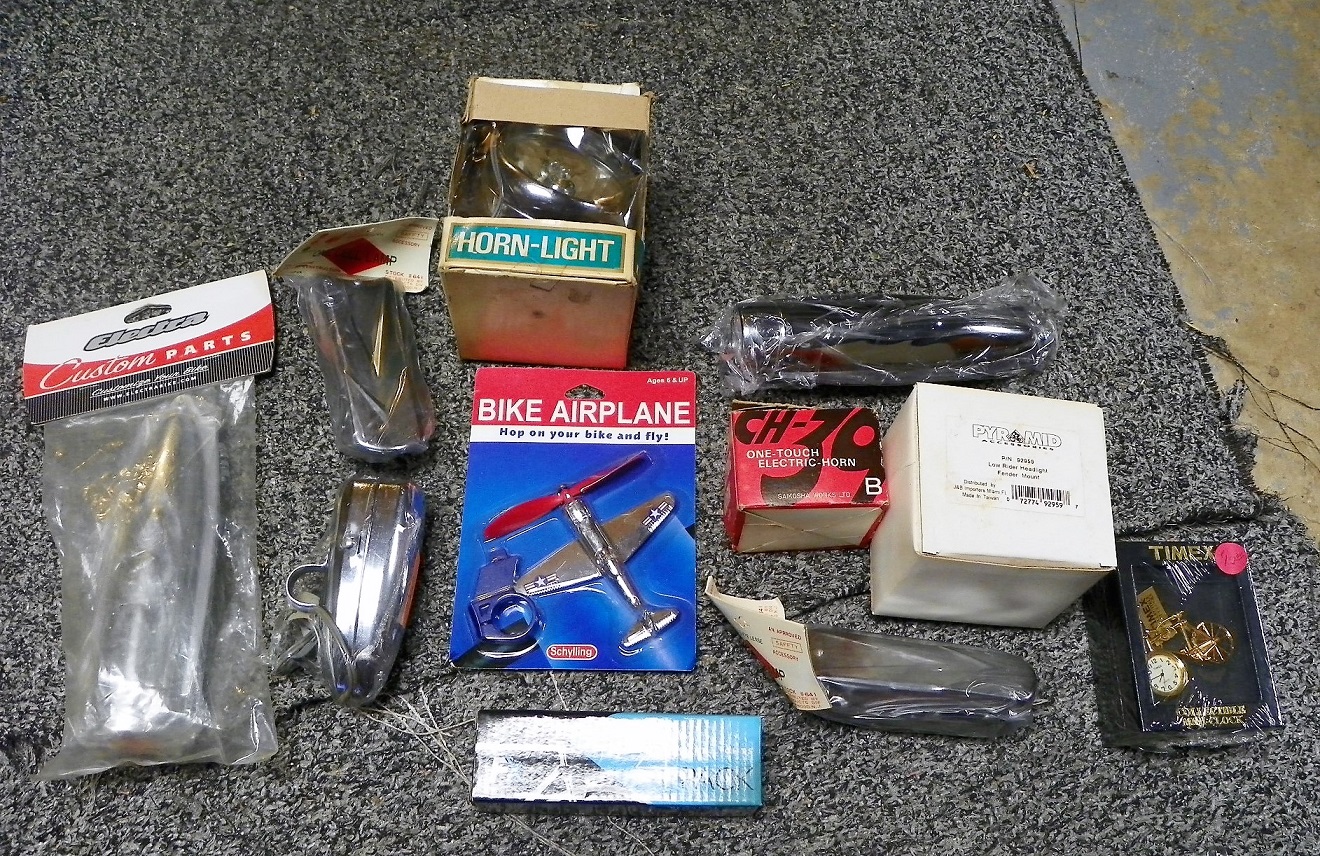 Part 2 will be posted shortly
Part 2 Included in price above.'
ALSO SEE MY OTHER POSTS BELOW FOR ADDITIONAL ITEMS ALSO INCLUDED FOR THE PRICE.
Schwinn stuff some of handlebars are schwinn
Much of what I have is from Speedsters, Racers, Breezes, and Continentals from 60's and 70's.
Bearing sets, axels, seats, chain guards (1 is for a Wasp), fenders, forks, stems, deraileur's, shifters, brake levers and calipers, carriers, head badges, grips, pedals, seat posts, plus a lot of bolts, handlebar, nuts, and other Schwinn specific hardware.
Rear carrier Phantom light (repo) Front fender Phantom light (repo)
Set of s 5 or 6) SA 3 speed wheels
2 sets Schwinn middleweight wheels (s-7 26 x 1 ¾) 1 set chrome 1 set painted
Hollywood middleweight (disassembled but all parts included)
Breeze middle weight as found
Chrome moly World Sport
Sorry I don't have more or better pix but much is packed away and will need help lifting boxes as I'm working on my fourth hernia.
I can give you a better description by phone so if interested pm me with your number and I will call you.
Please do not post questions on this thread
Last edited: