Riding a '38 Autocycle Deluxe
LOT 1 SOLD---------------
1-----Nice lot of 13 various bicycle reflectors...including what looks to be Monark in chrome bezel (few small dings)
2 glass Seiss looking lenses but smaller diameter by about 1/2", Vintage 30's Cat eye in Amber...same profile as
fender bomb and Schwinn prewar 6 hole carriers, One blue postwar Schwinn 6 hole glass newer mfg...and the rest as shown.
One with a sheered stud and one with a loose mounting stud...the rest no problem.
45.00 shipped on the lot!
bobcycles@aol.com
or PM here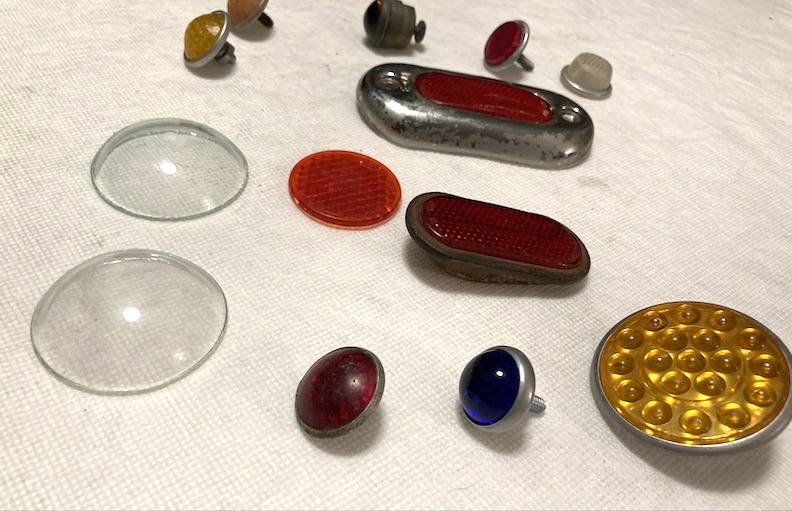 LOT 2 SOLD-------------------
2-----Nice reflector assortment including a 3" glass 2 point mount SafTRay, 2 prewar Schwinn 6 hole rack
profile glass jewels one yellow one clear, a couple of glass ones that could be automotive or hardware...one
Raleigh with the rubber or plastic casing... 40.00 shipped
3-----------Super large unusual NOS Gulco Reflector...over 4" diameter...with sissy bar? I assume mount. NOS
25.00 shipped
4------------NOS but I'm assuming Reproduction? Haven't seen this one before...Schwinn Script glass Stimsonite Schwinn
reflector....mint shape! Very nicely done excellent condition! Never mounted! Tried to zoom in on the script ...but hard to pick up in pix
5 SOLD---------------
5-------3" Glass Reflector on single post...I think SafTRay etc? Fair shape some patina...
24.00 shipped
6-----------Green glass Cat-Eye type reflector...looks very similar to the one used in the Schwinn
Fender bomb ornament, not positive if these were used. I believe this is the "Signal" version
30.00 shipped
7---------Large assortment of BMX? Cruiser and modern wheel and bicycle reflectors... Also a NOS Schwinn BMX pad
1 large lot of plastic and a partial EX Power Cam sprocket 35.00 shipped on all
Last edited: