Wore out three sets of tires already!
I just picked this NW up because of the wartime connection and have yet to have one in this time period with black out parts. Serial number is J07596, which I think is 1943 but have not looked too hard into that yet. I am hoping to start collecting some parts (I like to have all parts ready for the project before I start) and then tackle the break down, cleanup and reassembly.
I basically just pulled this guy out of the box and gave it a once over to make sure Fedex didn't bang it up too bad...
Images shown are from seller. When I get more time I will upload more. I just wanted to throw this up there for sake of conversation (and to motivate me to tackle this one sooner than later...
) and because his photos were pretty darn good.
First impressions:
Noted by the seller, the rear hub had been swapped out at some point for this large flange hub. I can only assume at this time it would have originally been a ND black out coaster hub.
Black out parts are: Levers, calipers, crank cones, wald pedals, seat clamp bolt, fender braces, seat post (hard to tell but the black coating looks to be there), front schwinn hub.
Parts not original to bike: large flange rear hub, chain ring, crank (maybe?), chain (maybe?).
Missing: miller kickstand (wonder if it would have been blacked out?)
Interesting observations:

It has a really cool persons tourist saddle on it from that time period. It makes me think that per supply issues, maybe Persons is what they could get (if original to the bike, which it looks to be). It could provide some more insight into supply chain issues at the time and who was making what.

You can tell it is from around that period by the lettering on the back which matches other persons saddles of the time.

It has the painted white rims which I have seen on some wartime NWs.
@GTs58 had noted to me that it is one of a couple/few he has seen with the rear caliper mounted on the inside of the stays

Still has the original "WAR TIRE" tires on there.
Also -
Looking for swap blackout parts if you got them.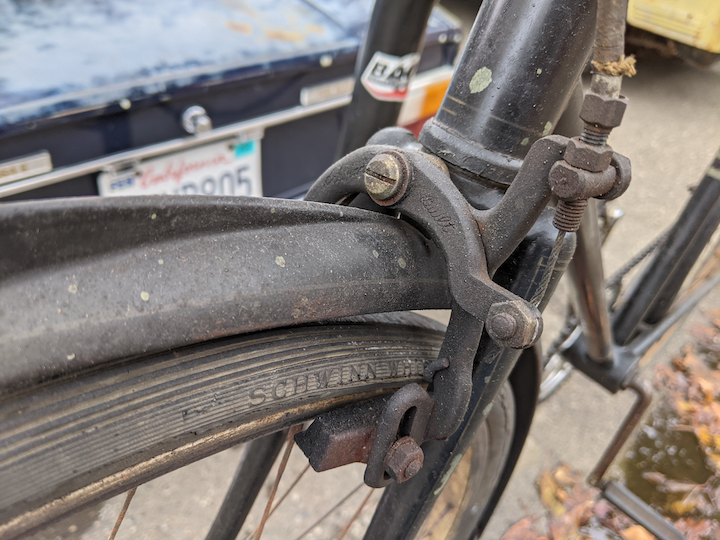 Last edited: